August 18, 2021 by
Elizabeth Quinn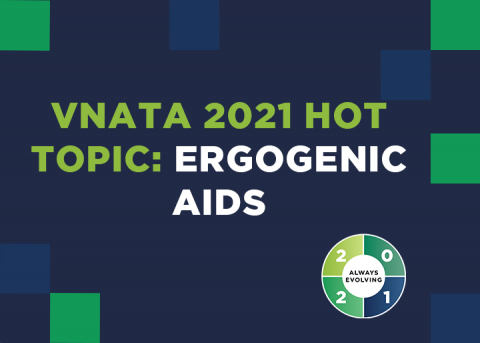 The 2021 NATA Virtual Clinical Symposia & AT Expo is far from over. The on-demand educational programming is available to attendees through Sept. 30, providing an extended time for athletic trainers to learn and earn CEUs.
Ergogenic aids, from doping to energy enhancements, have been an important discussion over recent years. VNATA 2021 ensures ATs are up to date on the latest information and research when it comes to these enhancements and supplements.
As a theme of VNATA 2021, the ergogenic aids sessions focused on disseminating information on techniques and/or substances used for the purpose of enhancing performance. You can find a list of the all ergogenic aids sessions, and other sessions, on VNATA 2021's schedule webpage.
"All About the Regulations: Dietary Supplements in Sports," presented by Chris Kolba, PT, PhD, MHS, and Jackie Buell, PhD, CSSD, ATC. This session focuses on how athletic trainers can educate the athlete on the regulations surrounding supplements from the FDA to sport governing bodies.
"Cheating … Who Cares? Why ATs Should Be Concerned With Doping," presented by Robert Kersey, PhD, ATC. This session highlights current doping trends, the involvement rationale for AT and other health care professionals and potential related health concerns.
"Energy Drinks & Other Caffeinated Products: Any Evidence To the Hype?" presented by Matthew Ganio, PhD, FACSM. This session looks at what regulatory bodies say about caffeinated products and if or how they will improve an athlete's performance as well as discuss misnomers and myths.
 "Hot Topics in Sports Nutrition + Tasty Applications: Expert Dietician Panel," presented by Dana White, MS, ATC, RD, Jennifer Doane, RD, CSSD, ATC, and Katie Knappenberger, RD, CSSD, ATC. Presenters facilitate a conversation with the audience about some of the hottest topics in sports nutrition, including the dangers of low energy availability, supplement evaluation and nutrition for the injured athlete.
"Improving Hydration During Sport and Physical Activity: Habitual Fluid Intake and the Role of Hydration Supplements (EBP session)," presented by William Adams, PhD, ATC, FACSM. In this presentation, current fluid intake recommendations during sport/physical activity and current evidence on hydration supplementation in sport and physical activity is discussed.
It's a Reporting Year
2021 is a reporting year for athletic trainers, and NATA is here to help. To ensure you earned CEUs after attending a session during VNATA 2021, allow pop-ups and redirects to prevent the device from blocking the assessments. In order to access the assessment, you must watch each session in its entirety. All assessments must be completed by Sept. 30 in order for the CEUs to be counted.
You can check your transcript in the VNATA 2021 platform by going to Account and clicking on "Request New Certificate." A link to access one's statement of credit will be sent to the email address used for your VNATA 2021 login by mid-October. Contact knowledgeinitiatives@nata.org if you doesn't receive the email or have questions about the CEU/statement of credit process.
There's still time to register! Visit the VNATA 2021 website and click on the register tab for more information.