June 1, 2021 by
Elizabeth Quinn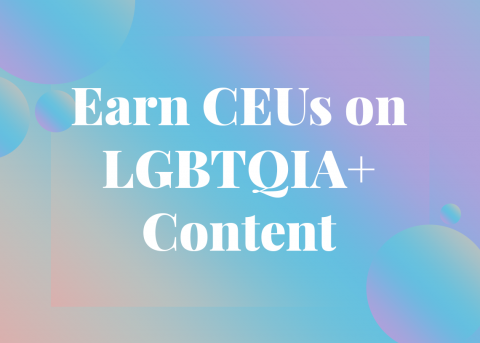 In honor of Pride Month, throughout June the NATA Now blog will highlight NATA's LGBTQIA+ resources to assist members in their pursuit of providing compassionate, culturally competent patient care to all.
In order to provide the best quality of care for patients, athletic trainers must be culturally competent. This means it is an AT's duty to educate themselves on the diverse patient population they will come in contact with.
NATA offers several educational and CEU-earning opportunities through the NATA Professional Development Center (PDC) to help ATs grow their skills and knowledge as culturally competent health care providers.
The LGBTQ+ Harassment: Are You IN or Are You OUT? webinar is available on-demand in the PDC. The webinar is an exploratory study to identify athletic trainer's attitudes and beliefs about bullying and harassment of LGBTQIA+ individuals in the workplace. It will be the impetus for attendees to self-reflect on their own biases and treatment toward those who identify with this population. Professionalism and patient-centered care will be addressed to better understand how athletic trainers can be ally's in their workplace.
The Safe Space Ally Training for the Athletic Trainer course, created by the NATA LGBTQ+ Advisory Committee and available in the PDC, provides Safe Space Ally Training (SSAT) to attendees. SSAT gives attendees the knowledge, attitudes, behaviors and skills necessary to achieve optimal health outcomes for this diverse patient population. This presentation will provide participants with the tools to practice effective cross-cultural communication and be prepared to work respectfully and effectively in diverse work environments as it relates to LGBTQ+ athletic trainers and patients. For more information about the course, visit the NATA Now blog.
VNATA 2021
The 2021 NATA Virtual Clinical Symposia & AT Expo, live June 22-24 and on-demand through Sept. 30, offers a several of LGBTQIA+ content available to attendees. Here are some of the educational sessions to look forward to at VNATA 2021:
Social Determinants of Health and the Impact on the Health & Well-Being of LGBTQ+ Patients
Athletic Trainer Awareness and Needs as Providers for Transgender Student Athletes
Athletic Training Program Directors' and Professional Students' Educational Experiences for Delivering Transgender Patient Care
Exploring the Emotional Response of Cultural Biases: Fostering an Environment for Inclusivity, Justice and Equity in the Athletic Training Facility
Cultural Competence in the Profession of Athletic Training: Anti-Racism and Patient Allyship
More Than Just Words: Intersectional Microaggressions and the Journey To Eliminate Cultural Barriers To Patient Care
Learn more about these sessions and other events offered by the LGBTQ+ Advisory Committee in the educational preliminary program and schedule at a glance. Register for VNATA 2021 today.
About the LGBTQ+ Advisory Committee
NATA is proud to facilitate the space for the NATA LGBTQ+ Advisory Committee to continue making strides for the LGBTQIA+ community. The committee is committed to the advancement of diversity within the athletic training profession by advocating for an environment of inclusion, respect, equity and appreciation of differences in both ATs and their diverse patient populations. The LGBTQ+ Advisory Committee will identify, explore, address and provide educational resources regarding emerging topics and concerns relevant to diverse sexualities, gender identities and gender expressions within the profession and health care topics affecting patients in the LGBTQIA+ community.
A 2019 blog looks at how students can interact with the LGBTQ+ Advisory Committee as well as describes some of the committee's responsibilities. Read more about the committee on the NATA Now blog, and be sure to check back each week during June for continuing Pride Month content.