November 18, 2021 by
Claire Williams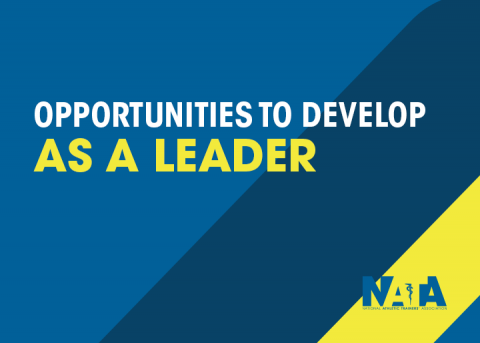 As health care providers, athletic trainers are looked to as leaders by their patients, coworkers and communities. But, leadership is not always a natural skill and can take time to develop. NATA ensures members have the opportunities to grow as leaders and develop those skills through educational courses and programming in the NATA Leadership Academy. 
NATA offers online leadership courses in the NATA Professional Development Center to encourage members to hone their skills, and focus on addressing the gap of soft skills and emotional intelligence in workplace interactions to improve patient outcomes. Many courses can be completed by NATA members at low or no cost.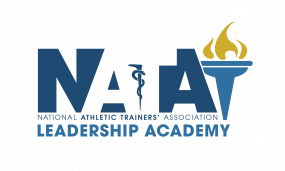 In 2021, the Leadership Academy debuted a new webinar series as a course bundle in the PDC. These on-demand leadership development courses were created for those who may not be ready to delve into a certificate program or are wanting to explore specific areas for specialized content learning. This year, 618 athletic trainers were enrolled in one or more of these webinar-based courses.
The Leadership Communication Series includes the following courses for members to enroll in at no cost:
Interpersonal Communication in Athletic Training: Connecting to Our Stakeholders
Management in Athletic Training
Using the Value-Orientation Inventory Tool To Understand Your Interprofessional Health Care Team
In addition to the Leadership Communication Series, the Leadership Academy offers the NATA Leadership Development Certificate program. This selective 12- to 24-month certificate program is targeted to NATA members interested in interested in association management and pursuing leadership at the state, district or national level.
The program consists of four modules that focus on vision, communication, collaboration and strategic thinking. It encourages participants to reflect on their personal leadership practices and association perspectives to recognize their impact and influence on organization effectiveness; understand, implement and evaluate strategic practices based on various theories, models and approaches; and analyze and evaluate the role of a strategic leader.
Since the program launched in 2017, 80 NATA members have graduated with a certificate. In 2021, the following members completed the program and earned the Leadership Development Certificate:
Brad Floy, PhD, LAT, ATC
Megan Richason, MS, LAT, ATC
Heather Campbell, MS, LAT, ATC
Natasha Schmitter, LAT, ATC
Dillon Gibson, MAT, LAT, ATC
Melissa Jack, DAT, LAT, ATC
Abu Ibrahim, LAT, ATC, CSCS
Chelcee Hill, MS, LAT, ATC
Ryan Flanagan, MS, LAT, ATC
Megan Shifflett, LAT, ATC
The program is open to all NATA members who are and remain in good standing, have a National Provider Identifier and attain their state and district leadership's approval. Complete the Leadership Development Enrollment Application to apply.
For more information about the Leadership Academy, Leadership Communication Series or the Leadership Development Certificate program, visit the Leadership Academy webpage and the PDC for other courses on leadership development.
RENEW YOUR NATA MEMBERSHIP
NATA is working every day to ensure you have the advocacy, professional growth, connection and support needed to keep athletic training essential to health care. By being an NATA member, you are investing in yourself, your profession and your future. Visit the NATA Member Benefits webpage to learn more about what comes with being an NATA member and renew your membership today. The deadline to renew is Dec. 31.
Don't let money get in the way of investing in yourself and your profession. Contact Member Services at 800.879.6282 or membership@nata.org to see how we can help.