December 2, 2021 by
Claire Williams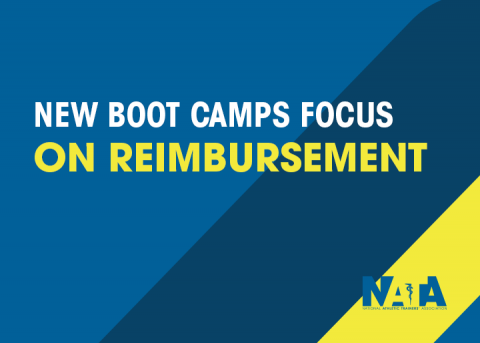 The efforts to increase professional recognition of athletic training services by insurance companies for reimbursement are ongoing, and NATA's Third Party Reimbursement Initiative (TPRI) works continuously to build awareness, especially at the state level.
In 2021, the TPRI team launched Third Party Reimbursement Boot Camps for members specifically to work with state leaders to educate and further advocate for AT reimbursement. This new benefit for members not only impacts their own practice, but increases professional recognition nationally as well.
"To make meaningful progress, state associations need to have led a coordinated effort to advocate with insurance companies and employers," said Joe Greene, MS, ATC, TPRI coordinator. "NATA can help them get started and guide them as they make progress because of the TPRI project.
"It is so important as commercial payor decisions are made at the state level."
The TPRI team hosted nine boot camps in 2021, and is scheduled to complete a boot camp with Indiana in January 2022. This year, Connecticut, Michigan, Minnesota, Missouri, Nebraska, New Mexico, Utah, Virginia and Wisconsin completed boot camps.
The boot camps are led by the TPRI team in-person or virtually, depending on travel and schedules, and are offered as a service to any committed state athletic training association at no cost. The only prerequisite needed to schedule a boot camp is to complete the NATA Legislative Boot Camp, hosted by the NATA Government Affairs staff.
State recognition of third party reimbursement is a critical part of expanding advocacy to the national and federal levels, and Greene said TPRI's top priority is aligning the billing and reimbursement messaging across all states.
"If states don't have a focused effort to reach out to insurance companies and to lead this effort, we can help them," Greene said.
During the boot camps, the same messaging, as it pertains to each state's specific practice act, is distributed.
"Alignment with NATA philosophy along with a demonstrated commitment to advancing reimbursement in their state or within a district will be essential to securing this formal assistance," Greene said.
Additional related topics are covered, including:
How to optimize state structure to support third party reimbursement success.
Overview of education specific to NATA philosophy on third party reimbursement.
Government affairs language and strategy development supportive of third party reimbursement in alignment with NATA government affairs model language and philosophy.
Payor communication and advocacy best practice education.
Prioritizing financial and human resources to optimize return on investment.
Employer implementation best practice education.
For more information about the Third Party Reimbursement Boot Camps and to schedule one for your state, contact Joe Greene, MS, ATC. The Third Party Reimbursement webpage also includes additional resources and information about reimbursement, including how ATs can advocate for recognition in their states.
Additionally, the next NATA Forward Motion with NATA President Kathy Dieringer, EdD, LAT, ATC, will focus on the path to reimbursement. Join Dieringer virtually at 11 a.m. CST Dec. 7 for this exclusive, members-only event, during which members will also have the opportunity to ask questions and provide feedback.
NATA Forward Motion is limited to 300 attendees and is first come, first served, so register today to ensure your spot.
RENEW YOUR NATA MEMBERSHIP
NATA is working every day to ensure you have the advocacy, professional growth, connection and support needed to keep athletic training essential to health care. By being an NATA member, you are investing in yourself, your profession and your future. Visit the NATA Member Benefits webpage to learn more about what comes with being an NATA member and renew your membership today. The deadline to renew is Dec. 31.
Don't let money get in the way of investing in yourself and your profession. Contact Member Services at 800.879.6282 or membership@nata.org to see how we can help.