May 3, 2022 by
Claire Williams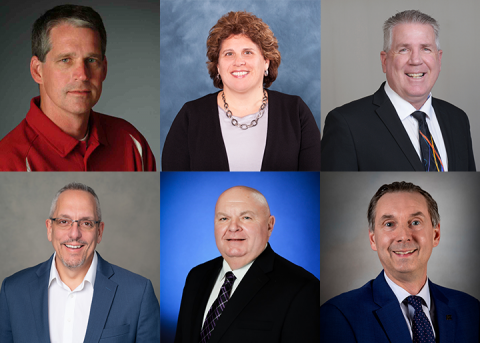 The May NATA News features a special look at the six athletic trainers who make up the NATA Hall of Fame Class of 2022. From their accomplishments and contributions to the profession to their own personal passions and influences, each has a great story to tell. Additionally, hear from the NATA Hall of Fame Class of 2020, also featured in the May NATA News.
Scott Anderson, ATC
Why did you pursue athletic training as your career?
Athletic training is a challenge I enjoy. I have been blessed with a series of phenomenal opportunities, teamed with exceptional people among the best who have ever served in their respective professions. I followed the path laid before me.
What inspired you to volunteer and what do you get out of it?
A college athletic trainer is what I am. The opportunity to serve college athletic trainers in pursuit of an ever-expanding margin of health, safety and welfare for college athletes is a natural fit.
What's the most valuable advice you have received during your career?
"Protect life!"
What advice would you give to young athletic trainers just starting out in the profession?
You're the primary medical care provider to the athlete so medical care of the athlete is your primary duty.
Marisa Brunett, MS, LAT, ATC
Why did you pursue athletic training as your career?
Like most ATs stories, I was a former athlete. I played basketball in high school and a year in college and quickly realized being a "fun-sized" basketball player, my athletic career would probably not go much further past college. All throughout my high school basketball career, my physical therapist knew my love of sports and medicine and kept telling me he thought I should investigate the athletic training profession and the excellent AT curriculum they had at West Virginia University, as he felt that would be a great career choice for me. At that time, we did not have an athletic trainer at my high school; however, when I went to play basketball in college we had a "trainer" (someone the coach tagged to be the "trainer" as he was interested in becoming a certified athletic trainer) and I explored the profession further. I wanted to learn more by studying through the basketball team's "Arnheim's Principal of Athletic Training" book and started helping to take care of my teammates.  I fell in love with athletic training and knew that was exactly the career I wanted to go into and transferred to WVU to apply to get into their program. The rest is "herstory."
Who are your biggest mentors and what impact have they had on you?
I have been so fortunate to have quite a few incredible mentors that have significantly walked my career journey with me and have been very impactful as they have guided, encouraged, supported, shared their experiences, listened to me when needed and most of all inspired me to be the best I could be. "Sam" Booth has been one of my biggest mentors, pushing, guiding and supporting me since my undergraduate program and all along my professional career journey. I am blessed to have some legends for mentors like Al and Sue Stanley Green, Chuck Kimmel, Denise Fandel, MaryBeth Horodyski, RT Floyd and Frank Grimaldi. They have provided great guidance throughout my volunteer work at all levels. My mentors have tremendously enhanced my professional and personal growth and development throughout my career and have become very valued and dear friends.
What advice would you give to young athletic trainers just starting out in the profession?
As you transition into practice, make sure you understand your position role and responsibilities and set your boundaries. Develop and nurture your relationships as that is what makes our profession so special. It is essential to rely on your mentors and colleagues that can assist you along the way as you are starting out in this great profession. Also, start your own "career highlights" folder and document important proposals, position developments, promotions, volunteer activities, special events and activities that you do throughout your career as you will have them to refer to along the way when needed.
Bart Peterson, MSS, LAT, AT
Why did you pursue athletic training as your career?
I am still not sure why, something with athletic training just clicked. I was introduced to athletic training by my high school basketball coach, Ken Wagner. We did not have an athletic trainer at Lehi High School. After cutting me from the team, he asked if I wanted to attend a class with him at the University of Utah from their head athletic trainer Bill Bean. After the class, Bill took the time to teach me how to tape. Coach Wagner also arranged for me to go to basketball practice at Brigham Young University every Tuesday afternoon rather than going to my own practice at Lehi High School. I got to work with Ollie Julkenen and learn from him. I mean, who would turn down an opportunity to watch Danny Ainge and the 1981 Elite 8 Cougars practice?
What's the most valuable advice you have received during your career?
Get involved!
What advice would you give to young athletic trainers just starting out in the profession?
As soon as you find your feet in your job, you need to make sure you lose your balance. Only by not being comfortable do we grow. If you are comfortable, you are not moving forward.
Use the resources created by NATA and its committees to enhance your professional practice. These resources have been created by athletic trainers who have been exactly where you are and know what you need. If NATA does not have it, call your NATA committee representative, present your solution and ask if you can help build it.
"Leave it better than you found it."
"Be a Carpenter – Build a Masterpiece"
Robb Rehberg, PhD, ATC, NREMT
What's your most memorable moment in the profession?
It's really hard to come up with one moment. Yes, the high school championships were great, and getting to work the Olympics and the Super Bowl were certainly memorable events I won't forget. But, in terms of the most memorable AND meaningful moments are those where I've gotten to see my work pay off… and I have those every day.  The athletes who thanked me in their senior speeches; the parents who took the time to say thank you; coaches who have taken our online courses and email to say thanks because the education they received made a difference; and the thank you notes from former students who are now colleagues… now those are memorable moments, and I consider myself very lucky to have them often! 
One particular moment that I do recall, though, is getting to introduce one of my favorite students to one of my favorite professors. Several years ago, I was at an NATA Research & Education Foundation event, and I saw one of the recent graduates from our AT program. She was an excellent student, and I knew she had a bright future in athletic training. I knew she had accepted a graduate assistant program at West Chester University, my alma mater. She had heard of the legendary Phil Donley but had never met him. I was fortunate enough to have had Phil as a student, and although he may not know it, he had a profound impact on me. I admired his depth of knowledge, which was surpassed only by his dedication to the AT profession. He happened to be at the event, and getting to introduce one of my best students with one of my favorite professors was a moment that I'll never forget.
Finally, I would be remiss if I did not include the day I met Dr. Joelle Stabile on the sideline of a high school football game one afternoon. She was a first-year resident completing a sports medicine rotation with my team physician. Long story short… she is now Dr. Joelle Rehberg, and my wife of 23 years.
Why did you pursue athletic training as your career?
Before I knew about athletic training, I had planned on becoming a police officer like my father.  But, like many ATs, my interest in the profession was born out of my time spent in the athletic training room as an injured athlete. My high school was one of a handful in the area fortunate enough to have an AT, and as a frustrated and injured athlete, I spent a lot of time in the athletic training room. I quickly developed a curiosity for how injuries occur, and I found that I loved learning anatomy. This was the first time I can remember really enjoying learning something. I couldn't get enough of it. So, after a fair amount of pleading, I convinced my athletic trainer, who was also my teacher, to allow me to create an independent study program in athletic training during my senior year. I was hooked. I had found a career path that allowed me to combine my love of sports with helping people. Thanks to my high school AT, I was introduced to a career path, a vocation and a life that I otherwise would never have known about. I am extremely grateful for that.
What is your hope for the future of the athletic training profession?
This is a great profession. I hope it continues to grow and evolve with our rapidly changing world, while at the same time, staying true to our roots. As a profession, we must be willing to embrace change and adapt, but never at the expense of forgetting our history.
What advice would you give to young athletic trainers just starting out in the profession?
I would tell young ATs just starting out that they can do anything with this profession if they're willing to work hard at it. This profession is full of opportunity for those willing to put in the time and effort. To put it in context of the 10%-90% advice… your ATC credential is the 10%. The 90% is what you will do with it.
George M. Roberts, MEd, ATC, LAT
What is your most memorable moment in the profession?
There are so many it is hard to pick just one. I am not keen on sharing the ones where I may have made an impact on a particular athlete's success whether it be winning or just participating. Let us just say that marching in the Opening Ceremony at the 1984 Summer Olympics in Los Angeles ranks right up there.
What advice would you give to young athletic trainers just starting out in the profession?
Learn something new every day. When you hear a medical term or encounter a new situation, spend some time researching that idea until you have at least a basic understanding. Always keep a copy of the Merck Manual nearby.
Timothy S. Weston, MEd, ATC
What's your most memorable moment in the profession?
I have had several memorable moments at different times throughout my career. The first would be being hired by the New York Yankees after several phone interviews (no virtual calls in the late 1980s), and being assigned to work with Oneonta Yankees in the minor leagues as my very first professional job. The second would be being hired at Colby College, which meant having the opportunity to return to Maine. Working at Colby for almost 30 years has been an amazing experience. The students, staff and faculty here are exceptional. Finally, having the honor to be elected as the District One director on the NATA Board of Directors and serving the members of District One at the highest level of our organization was a true privilege for me. Serving on the NATA Board of Directors was so rewarding in that I had the opportunity to make a difference in the lives of all athletic trainers.
What is your hope for the future of the athletic training profession?
That we continue to grow into a wide variety of emerging settings. When I was a young athletic trainer, you had to choose between professional sports, collegiate, hospital and secondary school as your work setting. Now there are so many more choices and I hope this can only continue to grow so ATs have the opportunities to find the absolute best career setting for themselves.