May 5, 2020 by
Claire Williams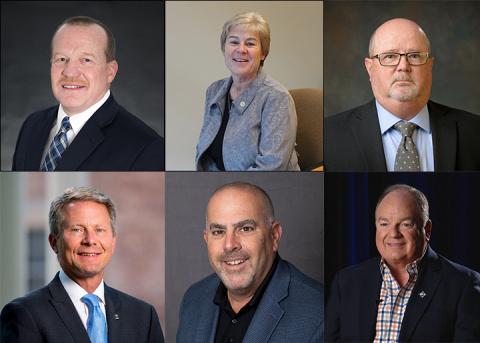 The May NATA News features a special look at each of the six athletic trainers inducted into the NATA Hall of Fame this year. From their accomplishments and contributions to the profession to their own personal passions and influences, each has a great story to tell. We are continuing the conversation on the NATA Now blog in May. Stay tuned for more insights from these impressive athletic trainers.
Why did you pursue athletic training as your career?
Glen "Larry" Cooper, MS, LAT, ATC
I had an injury in high school that kept me from doing something that I loved to do. A few months later I had my case reviewed by athletic trainers and physicians at the Olympic Training Center to determine if I could and should continue as an athlete. That is what awakened my interest into the profession that could help someone like me return to something that they loved to do. It was also the perfect blend of medicine, sports, and competitiveness, helping others and being outdoors for me. I have always loved the athlete mentality; being tough, focused, driven and sacrificing to get better at their craft/sport. This profession allowed me to enjoy many of the things that I love on a daily basis. I had the best seat in the house each and every day and was able to witness amazing feats of athleticism.
In addition, I was able to share in the ups and downs of athletics while looking out for their health and safety and well-being, helping to mold young people and be their advocate.
Denise Fandel, MBA, CAE, AT Ret.
I was introduced to the AT profession by reading the Cramer First Aider in 1975; I was in high school, and I saw the First Aider in the coach's office. I had an interest in biology and health care in high school, and I planned on being a student athlete and a biology major in college. But I became an AT because I was cut from the volleyball team – and on my way to the locker room I saw a sign announcing a meeting for anyone interested in athletic training. Since I now had some extra time on my hands, and I knew about the profession from the First Aider, I went to the meeting and instantly knew this was what I wanted to do. Kent Kalm, AT Ret., was our AT, and he was an amazing and inspirational teacher.
Greg A. Gardner, EdD, ATC, LAT
I was introduced to athletic training when I was in junior high school. Although I played football, I was a student aid for basketball in junior high and high school. Before football practice in high school, I would put on everything but my helmet, shoulder pads and cleats, and then go into our small athletic training facility to tape guys before practice. When I was a freshman in high school, our basketball team went to the state tournament in Laramie, Wyoming. The University of Wyoming athletic training staff put on a short clinic for high school student aids. The first day I walked into the athletic training facility in Laramie, something clicked and I knew I never wanted to leave that place. I sat there and watched Jack Aggers and Bill Lyons, MS, ATC, LAT, both now NATA Hall of Fame members, and it impressed me that two busy professionals were taking their time to set up this student clinic and teach students like me.
Kevin M. Guskiewicz, PhD, ATC, FNATA
I wanted a career that would allow me to help other people, stay connected to sports and keep me curious every day. I accomplished all three with athletic training.
Jeff Konin, PhD, ATC, PT, FACSM, FNATA
I chose athletic training as a career for the love of the people I worked with and the excitement of being part of something bigger than me.
Team atmospheres – especially when you win – make for fun working environments. I don't know of many in this profession who would argue differently. Over time, some of our careers branch into different areas of athletic training, but for the most part, we all begin with that feeling of belonging to a team of some sort. It is a feeling of being valued because we have a skill set –clinical and interpersonal – that makes a difference in the success of those we care for. More importantly, in a profession where too many are concerned with the longs hours and may choose a different career path, I chose to stay the course because many of my best friends in the world I made through the profession of athletic training. While I am so grateful for being selected to enter the NATA Hall of Fame, I'm more excited to be able to celebrate this recognition with so many colleagues who I consider family.
Mark A. Letendre, ATC
I loved participating in athletics, but found I was not physically able to compete against more gifted athletes.