October 27, 2020 by
Claire Williams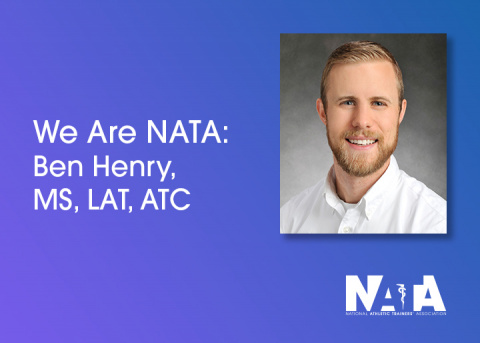 Home to athletic trainers throughout their careers, NATA provides its members access to professional growth, support, connection and advocacy. Through this semiweekly blog series, members will share what made them join NATA, the value of membership and how, together, we are NATA. Don't forget, the deadline to renew your 2021 NATA membership is Dec. 31. Renew or join today and learn more about the benefits of NATA membership.
For Ben Henry, MS, LAT, ATC, the value of an NATA membership has come down to the connections and relationships he's built within the athletic training profession. Connection enhances all the benefits of an NATA membership, such as advocacy, support and professional development. A member of NATA for 17 years, Henry said that the opportunity to network through NATA is what has helped him grow the most as an athletic trainer. 
As a head athletic trainer and program manager at Work-Fit in Washington state, Henry said he has appreciated the familial feeling that comes with being an NATA member. He feels comfortable asking his network for their different perspectives and he said he realizes those perspectives have made him a better professional, which he would not have gotten if he wasn't an NATA member.
Read on for more from Henry about what being an NATA member means to him.
How has being a member of NATA helped you grow as a professional?
That's an easy one. Being a member of NATA has helped me grow in that I'm able to network with other professionals. One of my favorite things about being a part of the NATA is the involvement with the association itself, not just from a state level, but from the district and national level. I know that at any time, if I ever needed anything, I can pretty much look at my Rolodex of people who I've connected with over the years and I'm able to reach out to somebody to gain perspective or to bounce ideas off of or ask questions. Being secretary for District Ten, the last term, I just rolled off of it this year, I was able to meet hundreds and hundreds of likeminded professionals, so being able to interact with those folks on a regular basis, not only friends, but these prospective colleagues of mine, now that I can reach out to for anything that I ever need.
With the COVID-19 pandemic that's been going on, I really enjoyed the 2020 NATA Virtual Clinical Symposia & AT Expo. I'm an industrial athletic trainer, so generally there's not a lot of continuing education that's directly associated with that setting, but every once in a while, you'll get something that I didn't know existed. Having the VNATA 2020 really helped me find those courses that sparked my interest outside of my normal field.
How does being a member of NATA influence your network and your ability to connect and build community with other ATs?
The network itself, like I said, it's the ability to reach out to anybody I need. It's a better understanding of what professionals exist out there. Everybody comes from a little bit different backgrounds, so being able to talk with somebody that may share some of the same thoughts I do, but also they share completely different thoughts because of their experiences. It's a cool thing to be able to be with people who don't share the same mindset because it expands your own perspective on the environment of the profession itself. I'm not narrow minded by any means, and I think that plays into my acknowledgment or recognition of other people's perspectives and wanting to understand what other people are thinking, because it only adds value to my own perspective, my own view of things.
Being able to have that vehicle to be able to look at other people's perspectives has only improved my own perspective, and I don't have that without NATA.
How has being a member of NATA impacted your ability to advocate for yourself or the profession at large?
From an advocacy standpoint, I think it's been pretty cool to be able to get involved with things like Capitol Hill Day, and just get a better understanding and appreciation of what the profession really needs to do or can do to become more aware of the political environment that exists around the athletic training profession.
Being out here in Washington, I don't think I would have had the opportunity to really see the connection between what's going on in our state and what's going on in Washington, D.C., without the opportunity to go to Capitol Hill Day. I think that was one of the coolest defining moments of my career and my understanding of our profession, and the work that goes on behind the scenes. It inspired me, but it also gave me a perspective that I absolutely did not have of how the conversations that happen with senators and representatives really go a long way. It was one of those defining moments I think back to quite a bit and say, 'That was really cool to see.' I think everybody should be able to experience that same thing. I wish everybody took the advantage to be able to do those things.
I work with mechanics who only know the athletic trainers as, you know, the person who helps the kid who plays on the local high school football team out here. There's so much more to it, the marketing I'm able to do. I'm able to connect with people like Mary Kirkland, MS, LAT, ATC, at NASA, different athletic trainers who have had experience in the groundbreaking of this profession in the industrial setting. It's been cool to see what their challenges are, how they've overcome them and using that networking to my advantage to understand what other people have gone through and taking that experience and using it myself.
During your career, how have you felt supported by NATA?
Now, a lot of my answers go back to just my experiences with getting involved in NATA. I think there's a lot of people that missed the opportunity to or don't take the opportunity to get involved with NATA to feel that support. I feel like the biggest support I've gotten has been with the friendships and networking that I've been able to do with things like being on the board of directors for our district and being a part of some of the different committees within NATA.
I think support from NATA comes from the membership itself. Allowing interactions to organically happen at events and taking advantage of those things has really built up my confidence in myself as a professional, but has also led me to some really great friendships over the years, not just within NATA, but within the Board of Certification Inc., within the Commission on Accreditation of Athletic Training Education and the Athletic Training Strategic Alliance has really grown. Being able to see the changes that have occurred, and the relationships that have built over the years, I think that's such an important part of who NATA is, as long as people are willing to take advantage of that.
Why are you a member of NATA?
That's a hard question. NATA, to me, has really formed a great family environment. I feel very connected to NATA because of those relationships that I built. One of the things I always say, and I think this kind of sums it up, is that whenever I go to NATA events, whether it be a district meeting, NATA convention, Joint Committee Meeting, I always go back feeling like it's a family reunion. I get to talk to people I haven't seen in years and I get to hear about what their experiences are.
If you're if you're only looking at one or two elements of the NATA benefits, I think you're missing out on a lot of perspective on what NATA can bring you. I think it's the cumulative of the environment, the family, the family environment that you're getting from this. I also really appreciate the ability to be a stakeholder in NATA. Getting involved with things like the board of directors, getting involved things with the professional development committee.
It's not just one element; there's a lot of things that makes the culture so positive. Seeing how many athletic trainers are part of NATA, it's so cool to see the connection people get from it. I think when it comes down to it, it's the family atmosphere. It's the networking. It's the support you feel to be a stakeholder in your profession. I don't see it as a duty; I see it as something I want to do because it's important to me. It's important to not just my career, but my lifestyle.