September 13, 2019 by
Beth Sitzler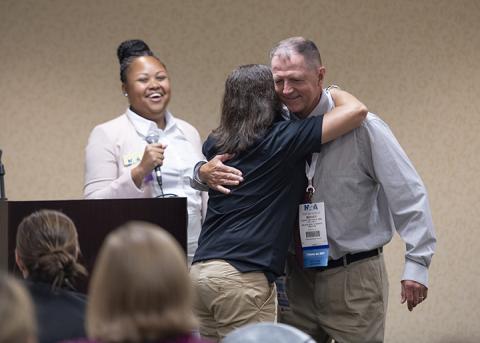 Photo caption: ATs Care CISM Team Coordinator Woody Goffinett, MBA, ATC, EMT-T, gets a hug from New Jersey ATs Care CISM team member Christina Emrich, MS, LAT, ATC, during a talk by ATs Care Co-Chair Lovie Tabron, MS, ATC, CCISM, at the ATs Care CISM Team refresher course at NATA 2019 in Las Vegas.
By Jessica Good
Maybe you're going through a divorce, or you're having a hard time as a single parent.
You might have had some recent conflict with your boss or an administrator, or you're having trouble setting boundaries in your work or personal life.
You or a loved one might be sick, or your child might be dealing with bullying at school.
Whatever the reason for your struggle, members of the ATs Care Committee want to remind athletic trainers and athletic training students that the committee is there to help, even with problems that might seem too small or non-AT-related.
"I wish people knew that ATs Care is for more than just the obvious critical incidents like natural disasters or loss of a patient," said District Three's Donita Valentine, DAT, ATC, CCISM. "Stress can be anything."
ATs Care is a peer-to-peer support program comprising ATs who have been trained in crisis management – a kind of assistance committee members refer to as "psychological first aid."
"Everybody reacts to critical incidents in their own way. What we do as peers is talk to these folks and, most importantly, listen to these folks," said District Five's Mark Cairns, ATC, PRT, CCISM.
Some ATs are resistant to the idea of reaching out for help because they worry they'll be judged, committee members said.
"But we're not here to critique anyone's athletic training skills in any way, shape or form," Valentine said.
Instead, said District Eight's Kelsey Bains, MA, ATC, "We're putting out a lifeline into the water and saying, 'Hey, do you want a ride?'"
ATs and athletic training students who are dealing with a crisis, committee members said, can benefit from talking to another AT who understands the unique pressures of the profession.
Sometimes health care professionals such as ATs can have a sense that "we're supposed to carry on, no matter what," said District Ten's Lisa Kenney, MA, ATC, CCISM.
"I think some of the older, wiser, more experienced ATs think, 'I'm supposed to be able to get through this alone,'" she said. "Younger professionals are more willing to make that reach, more willing to say, 'Hey, I'm going through something, and I need to find help to deal with it.'
"We just want to make sure people are aware it's OK to reach out to someone."
If you have questions or would like more information about becoming a peer-support provider, contact ATsCare@nata.org.
To reach the ATs Care Committee, complete the online ATs Care contact form. Someone will be in touch within 48 hours.