April 17, 2018 by
Beth Sitzler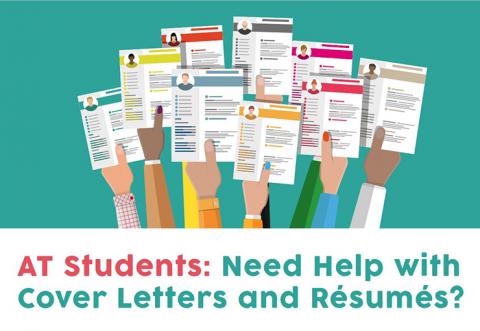 Cover letters, résumés and references – oh my! These three simple items can often be intimidating because of the large impact they have during the job hunt.
To help students put their best foot forward and guide them as they apply for internships, job positions and educational programs, the NATA Student Leadership Committee will hold its first-ever webinar, "Cover Letters, Résumés, References: Setting Yourself Up for Success" by District One Director Tim Weston, MEd, ATC, at noon (CST) April 23.
"Not many institutions cover how to build a résumé or cover letter in a professional way," said Sean O'Gara, member of the SLC Outreach Subcommittee, which organized the webinar. "Our profession is very unique, and the typical business templates people may find online do not necessarily apply to how athletic trainers format their résumés. Students, regardless of year in a program, should know how to properly format a résumé."
Weston, who has reviewed a lot of résumés and cover letters for the Colby College Department of Health Services over his 25-plus-year career, said the first impression a person makes on an employer is through their cover letter and résumé, and they want to ensure it's a good one.
"Their cover letter and résumé carry a lot of weight, and what they put in both of those is extremely important," said Weston, adding that during the webinar he'll discuss the proper way to format an athletic training résumé and what to include, such as non-athletic training related experience, volunteer work, professional certifications and memberships.
Weston said while the focus of the webinar will be cover letters, résumés and references, he also wants to touch on interviews – phone, Skype and on-site – as well as the follow-up process.
"Say you haven't heard from the institution or the place you applied to, when can you ask them about notification?" he said. "And then if you don't get the position, what are your next steps? What's the appropriate follow up?"
He added that he wants to let participant interaction guide the conversation to ensure he's covering topics that are important to students.
"This is a phenomenal opportunity to have a webinar on how to write and compose a résumé and cover letter," said Ashley McLendon, chair of the SLC Outreach Subcommittee. "I believe this webinar will be a high-caliber occasion for students to increase their professionalism. The cover letter and résumé are your first steps to receive a call for an interview, but if you did not work hard and put effort into these documents, there won't be a call. I hope students see the value in this webinar and take advantage of it to help them prepare for future internship, job or master's programs."
While the application and interview process can be nerve wracking, Weston said students shouldn't be intimidated. Even if they don't get the position, they shouldn't be disappointed since the athletic training community is a small one and it's not uncommon for athletic trainers to pass along qualified job candidates to their peers.
"I want the students to take away from the webinar that if they do their homework and put some time and effort into their cover letter, résumé and references, they will have some amazing opportunities," he said. "They may not get what they're applying for, but just remember, if you're an outstanding candidate, that employer is going to remember you."
The webinar is available online. For more information about the student webinar, as well as more tips from Weston, check out the April NATA News. You can also visit the Student Resource page for more resources.