April 20, 2022 by
Beth Sitzler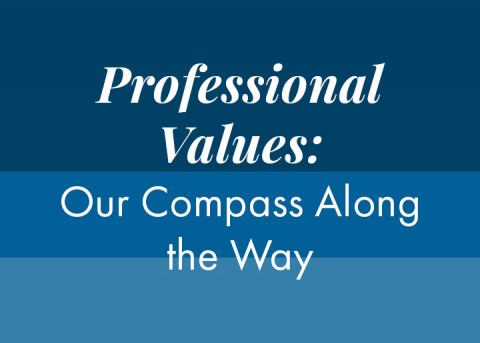 By Kimberly Peer, EdD, ATC, FNATA, Gretchen Schlabach, PhD, ATC, Marisa Colston, PhD, ATC, Carrie Baker, PhD, ATC, and Midge Peterson, MS, LAT, ATC, NATA Professional Responsibility in Athletic Training Workgroup
Shared professional values (PVs) are at the core of professionalism. Inherent in the notion of professionalism is the anticipation that members aspire to express and defend shared PVs in their professional role. As athletic trainers, the development and reflection of professionalism in our work helps to regulate and coordinate the expectations for AT professionals. We are able to grow throughout our careers using these consistent shared PVs as our compass along the way.
Shared PVs are truly the seeds of professionalism, and from that, a solid professional identity can emerge. Likewise, the Carnegie Foundation on Graduate Medical Education acknowledges the role of professionalism in the educational processes for health care professionals. With prestigious organizations promoting the construct of professionalism through the manifestation of PVs. As such, athletic trainers are well positioned to integrate these shared PVs and establish our unique identity health care.
Three models of professionalism have evolved and emerged over the decades:
Model 1: Professionalism as values and virtues reflected through strong character traits such as application of ethical principles, demonstration of compassion, respect, humanistic, caring and trustworthy actions.
Model 2: Emerged in the 1990s and is anchored in behaviors and competencies. Emerged in response to failures of virtues manifesting as a gap that widened between ethical instruction and ethical action – thereby creating a behavior focus.
Model 3: Professional identify formation models emerged integrating a progressive integration of values and to take on the identify of a health care provider. They identify with their community of practice and are socialized in the values, aspirations and behaviors in the field (Byyny, 2018).
Each of these models can provide valuable guidance to the athletic training profession as we integrate the concept of professionalism in our guiding documents, policies and expectations. Each will help to establish the professional identity.
Many authors have looked at the construct of professional identity. Although tied to professionalism, it is an ongoing journey where the professional grows throughout their career to embrace and reflect the fundamental tenets of the profession. Inherent in the professional identity is the integration of shared PVs and behaviors as role modeling and mentoring demonstrate a commitment to practicing with professionalism at the core. Professional identity is indeed a complex process. However, it is essential to the survival of any profession, and athletic training is not unique in that perspective. As athletic trainers continue along their professional journey, a solid foundation anchored in consistent expectations provides the reasonable expectations of all who practice in the profession. Acting with professionalism and reflecting a professional identity anchored in shared values provides a common ground for all with whom we engage.
Richard Jenkins provides a fantastic perspective on the professional identity.
"Identity matters. Who we are, and who we are seen to be, underlies much of what we do in medical education. Identity is rooted in language and interaction and, although we conceptualize identities, they are not fixed or static. Identities are realized through the ongoing dynamic process of identification; it is not something that one can have or not; it is something that one does" (Jenkins, 2008, p.5).
This broad approach to the professional identity and how it transcends all we do as professionals embraces the evolutionary process of identity formation. This dynamic, evolutionary process is guided by shared PV which are reflected in behaviors that are expected of athletic trainers. This compass helps professionals to make decisions that are anchored in these foundational expectations. This "action" transcends all aspects of the work we perform regardless of setting.
A professional identity is bound by various levels of values systems and can be confusing. However, as a professional and acting as a professional, PVs will dominate your decision-making. Understanding, appreciating and adopting the shared PVs for one's respective profession is essential. As we evolve, we need to integrate the old and the new. Although NATA has prescribed specific exemplars of the shared PVs in action through identification of behaviors, we know that they can't be exclusive. As you continue along your journey, you will be able to identify and integrate new behaviors that are reflective of the shared PVs in action. Each new situation and role will present new challenges and a need to adapt. But what will remain consistent are the shared PVs for the profession and the foundation of professionalism that is inherent in the expectations within society for our profession. Without shared PVs, it is difficult to reflect the athletic training professional identity consistently.
As the athletic training profession grows, so does the professional identity of the professionals within it. As distinctive health care providers, others in health care and those whom we are entrusted to treat will know what to expect. The professionalism reflected by athletic trainers is deeply rooted in the shared PVs and will sustain this profession well into the future. As we continue to evolve through historical changes in settings and professional preparation, we will stand united through our values. As a profession, the shared PVs will go beyond the content knowledge needed to be proficient reveal the heart of the profession.
References
Byyny RL. Medical Professionalism in the Modern Era. The Pharos. Winter 2018: 1-11.
Jenkins R. Social Identity. 3rd ed. London, England: Routledge; 2008.