September 30, 2019 by
Beth Sitzler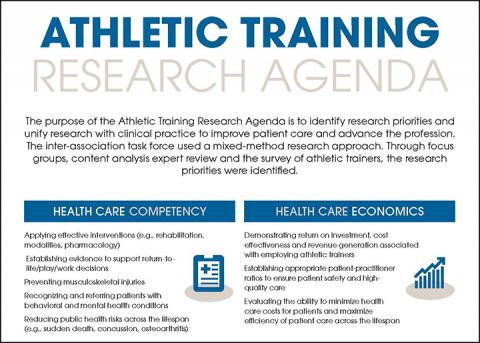 Research is at the center of the October NATA News. In addition to detailing some of the latest AT-led research taking place and providing insight from researchers in the profession, the October issue takes a closer look at the Athletic Training Research Agenda. Created by the Strategic Alliance Research Agenda Task Force, the Athletic Training Research Agenda identifies research priorities for the entire athletic training profession to unify AT-driven research. The agenda is built around five key areas:
Health care competency
Vitality of the profession
Health professions education
Health care economics
Health information technology
It is the hope of the Research Agenda Task Force that the agenda will foster collaboration between clinicians and researchers to facilitate the development of research in needed areas, improve patient care and advance the athletic training profession. The Strategic Alliance plans to update the Athletic Training Research Agenda every five years.