April 15, 2021 by
Beth Sitzler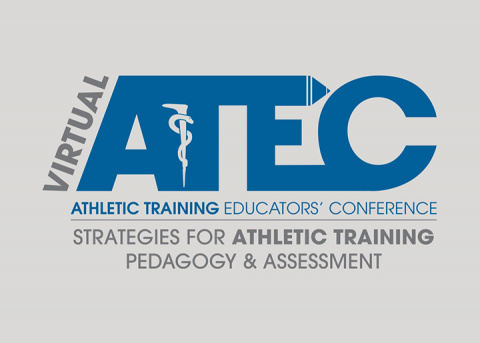 As the premier event for athletic training educators, the 2021 Virtual Athletic Training Educators' Conference will provide attendees the latest insights into athletic training education, live April 29-May 1 and on-demand through May 31.
When planning of the biennial event began in February 2020, the ATEC Planning Committee intended for it to be an in-person conference. After the COVID-19 pandemic took hold in March 2020, however, the committee switched gears to ensure attendees would still receive the exceptional learning experience they've come to expect through a digital platform.
"We had multiple discussions concerning various options including cancelling or going virtual," said VATEC Planning Committee Chair Paul Krawietz, EdD, ATC, LAT. "It truly took a team effort to pivot to the virtual format and strategize to make all the pieces of the puzzle come together."
Working with the NATA Executive Council for Education, Professional Development Committee and staff, the ATEC Planning Committee created a virtual conference that combined the hallmarks of the in-person conference – diverse educational programming, a vendor exhibit and attendee engagement opportunities – with the benefits of online learning, such as convenience and access from around the world.
With the theme "Strategies for Athletic Training Pedagogy and Assessment," VATEC 2021 will feature sessions that cover a range of topics – from cultural representation in athletic training education to fostering critical thinking – through plenary presentations, interactive breakout sessions, focused model practice presentations and more.
"[VATEC 2021] offers something for everyone involved in AT education and will enhance their knowledge, skill set and overall effectiveness as an educator," Krawietz said.
VATEC 2021 will also include opportunities for attendees to interact and engage with one another, an element of the in-person conference that the ATEC Planning Committee members felt was important to retain. 
"We recognized that, in addition to obtaining continuing education, attendees historically come to ATEC to visit their colleagues, catch up and meet other educators," Krawietz said. "Therefore, we wanted to provide plenty of networking opportunities. Thus, the schedule includes VATEC Chats, small group discussions, direct messaging to colleagues via video or text and the AT EducATionalist Town Hall."
VATEC Chats will be held throughout the live and on-demand event and will discuss topics including student recruitment and mental health, post-professional education and the future of athletic training education. (See the full topic list below for more information.)
The current and future state of athletic training education programs will also be discussed during the AT EducATionalists Town Hall. This discussion will encompass issues pertaining to student recruitment and diversity, admissions, retention and program viability.
Wanting to celebrate the achievements of athletic training educators, VATEC 2021 will also feature remarks from the 2019 Sayers "Bud" Miller Distinguished Educator Award recipients, Carl Mattacola, PhD, ATC, FNATA, and Jay Hertel, PhD, ATC, FNATA, as well as the 2020 recipients, Kim Peer, EdD, ATC, FNATA, and Greg Gardner, EdD, ATC, LAT. (Learn more about the Sayers "Bud" Miller Distinguished Educator Award recipients in the accompanying blog post.)
"As with every ATEC, I hope attendees acquire new knowledge, that they are presented with new ideas and concepts that challenge their status quo, and learn a few new strategies that they are excited about implementing didactically or clinically," Krawietz said. "Also, after a very challenging year, I hope attendees connect with old friends, meet new colleagues and take away a sense of renewal and excitement for teaching and learning."
Attendees can earn up to 12 CEUs by participating in VATEC 2021. The on-demand portion includes access to all of the VATEC 2021 educational sessions from the live event as well as access to select courses taken from NATA educational resources.
Early registration is $150 for NATA members and $450 for nonmembers, and is available through April 28. After that date, registration is $225 for NATA members and $525 for nonmembers through May 31. Take advantage of the early rate and register for VATEC 2021 today!
VATEC Chats Topics
Throughout VATEC 2021, attendees will have the opportunity to connect and engage with fellow attendees and thought leaders. VATEC Chats will be held throughout the live and on-demand event. Topics discussed during the VATEC Chats include:
VATEC Chat Session One
Student Recruitment
Preceptor Development
Diversity, Equity and Inclusion
Interprofessional Education
VATEC Chat Session Two
International Education
COVID-19 – Silver Linings
Post-Professional Education – Residencies/Fellowships/DAT
Student Retention
On-Demand Chat Week One
On-Demand Chat Week Two
Future of AT Education (Reshaping Education)
On-Demand Chat Week Three
On-Demand Chat Week Four
VATEC 2021 Sponsored By