December 5, 2022 by
Beth Sitzler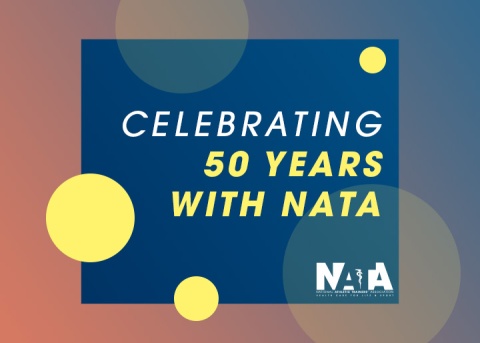 The December NATA News highlights the 112 members who celebrated 50 years of membership with NATA in 2022. Congratulations to these members, listed below, as well as all of our members who are celebrating milestones with the association this year!
Ronald Dunn     
Wm. McFarlin   
Larry Nottingham            
David Orr            
Robert Adelizzi 
William Walker
Herman Schneider          
Michael Willets
Lesley Rogan     
George Curtis   
James Popp       
Thomas Pepper Burruss
Duane Ritter      
Robert Hoehne
Michael Sherer
Jon Smith            
Roger Harbour  
John Moser       
Melvin Craig      
Karen Toburen 
Clyde Frankie    
Richard Gigliotti
Robert Evers     
Michael Travagliante     
Sue Lerner         
Ira Silverstein    
Hal Hilmer          
Michael Bell       
Ronnie Barnes  
Bradley Taylor  
Tommy Love     
Kaye Cosby        
Richard Benson
Charles Huffman             
Marjorie Albohm             
Kent Evans         
Joseph Murray 
Peter Carlon
Joanne Farley   
Gerald Krummel              
Phillip Mateja   
Anton Martinez
Joseph Bresnei 
Keith Handling  
Timothy Kurtz   
Richard Livermore          
Phillip Prather  
Robert Wilson   
Louis Perry         
John Faulstick   
Richard Eagleston           
Larry Duensing 
Richard O'Brien
Richard Hanson
Kenneth Chatham          
John Bielawski  
Jerry May
Beverly Land
Francis Feld
Glen Foster
John Bush
Alberto Errico
George Patterson
Robert Welles
Terry Winkle
Kenneth Schields
William Hyncik
Dominick Vitarelli
Gary Shields
Danny Foster
Anthony Rubba
John Streif
James Rankin
John Coddington
Edward Smith
George Davies
Michael Palamarchuck
Michael Pace
Gary Iwamoto
Rod Walters
Robert Marley
Kathleen Heck
Jack Mansfield
Robert Burke
Keith Luxton
Michael Freer
Larry Scheiderer
Michael Macejko
Howard Roth
Scott Anderson
Harold Henderson
Edgar Day
Randell Matthews
Rick Susick
Jerry Weber
Roger Hunt
John Williams
David Binder
James Roush
Jack Koelmel
Ronald Stefancin
Harry Hollihan
Joseph Donolli
Kirby Patterson
Owen Keller
Ted Plamondon
Geoffry Haines
Lonnie Clark
Donald Kaverman
William Helm
Anthony Garofalo
Daniel Minert
Renew Your NATA Membership
Your membership with NATA unlocks access to a variety of member bene­fits in professional growth, advocacy, support and connection, with several benefi­ts extending beyond just one of these categories. Visit the NATA Member Benefits webpage to learn more about what comes with being an NATA member and renew your membership today. The deadline to renew is Dec. 31.
Don't let finances get in the way of a membership – if you are experiencing a financial hardship, contact Member Services at 972.532.8897 or membership@nata.org to see how we can help.