January 7, 2020 by
Beth Sitzler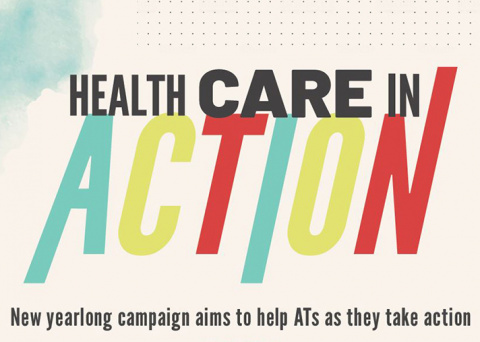 The January NATA News features a look at our new yearlong campaign: Health Care in Action.
As health care providers, athletic trainers take action every day. The goal of the Health Care in Action campaign is to not only celebrate everything athletic trainers do for the betterment of their patients and, overall, the communities in which they serve, but to help athletic trainers communicate these endeavors to others.
The Health Care in Action campaign will provide resources to members that help them tell their stories as health care providers and advocates. One such resource is the "20 Things to Do in 2020" list, which contains action items every NATA member can complete throughout the year as part of the Health Care in Action campaign.
Whether it's engaging in a conversation on Gather, NATA's online community, or building a relationship with a legislator or reporter, all of these action items are designed to advocate for the athletic training profession and showcase athletic trainers as health care providers.
Throughout the year, select action items featured on the "20 Things to Do in 2020" list will be written about in detail in NATA News. The intent of this article series is to provide the steps that can be taken to achieve the selected action item, ensuring all members can accomplish these 20 things.
Read NATA News and the NATA Now blog throughout the year to stay up to date on the Health Care in Action campaign.