July 30, 2020 by
Beth Sitzler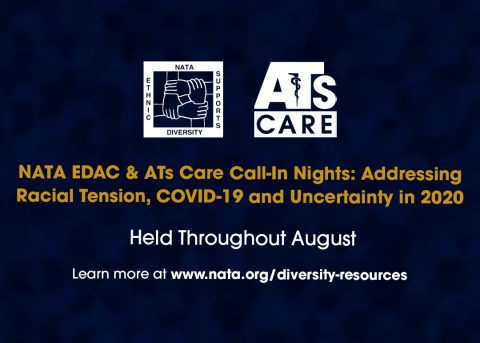 After hosting a successful call-in event in June, the NATA Ethnic Diversity Advisory Committee and ATs Care Commission will team up once again to host call-in nights for NATA members and student members to express their emotional response to recent events throughout August.
The NATA EDAC & ATs Care Call-In Nights: Addressing Racial Tension, COVID-19 and Uncertainty in 2020 will be held at 6 p.m. CDT Aug. 3, Aug. 11, Aug. 19 and Aug. 27 for members and at 7 p.m. CDT Aug. 5 for student members.
"Just because we flipped a new page or swiped to a new month in our calendars, doesn't mean our feelings and emotions stayed behind," said EDAC Chair Kysha Harriell, PhD, LAT, ATC. "Now, more than ever, athletic trainers need to feel supported and connected. As we return to our sports, facilities or classrooms, we will be the ones to put on a strong face as we keep everyone else cared for and calm; often while silently struggling and needing care ourselves.
"EDAC and ATs Care decided to host additional call-in events in August to continue the critical dialogue that began in June. I hope these next calls allow folks to share and support one another as we continue to fight for racial equality and battle the challenges of an unprecedented global pandemic."
ATs Care team members trained in ICISF's Group Intervention will educate attendees about the effects of critical incident stress. Education will also be provided on how to identify the signs of critical incident stress personally and in others as well as strategies for coping, self-care resources and information about ATs Care services. EDAC committee members will also be on hand to provide information and resources about being an ally for Black athletic trainers, facilitating conversations about racial tensions in the work place and healthy social media saturation during times of racial tension.
"Traditionally, August is a month of transition for many of us working with our respective sports teams," said ATs Care Commission Chair Lovie Tabron MS, LAT, ATC. "This year, what we are transitioning into is so uncertain, so unknown, yet we must march forward and present resiliency for our patients, families and ourselves. Some of us have spent the last few months explaining our resiliency throughout our life span. As we enter more uncharted territory it's important to foster racial pride, increase awareness and utilize our support systems.
"My hope is that hosting call-in nights in August helps to normalize the fear, nervousness and worry associated with entering the next phase of our new horizon. I'm hoping we arm those who feel alone with support and create peer connections to lean on as we move forward together."
EDAC and ATs Care is collaborating with the NATA Student Leadership Committee for the Aug. 5 student-centered call-in night, ensuring student members have a supportive environment and feel comfortable expressing their emotions and experiences.
"The Student Leadership Committee is the only student-led committee within NATA. It is our responsibility to represent the athletic training student community nationwide," said SLC Chair Sophia Lanasa. "Our participation in the EDAC and ATs Cares call-in night addressing prominent issues in our society today is a valuable student member benefit. ... This call gives an opportunity for students to discuss concerns and challenges they may be facing. The conversation and feedback exchanged between SLC members as well as other participants on the call, we hope, will provide reassurance and stability in these trying times."
For more information and to RSVP for any of these call-in nights by visiting the Diversity Resources or ATs Care webpages.