June 13, 2022 by
Beth Sitzler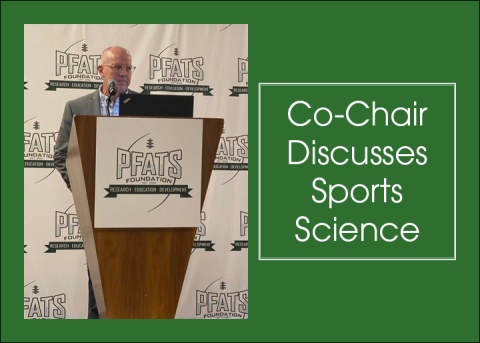 During the Professional Football Athletic Trainers' Society (PFATS) annual meeting and education program, held before the NFL Combine this March in Indianapolis, NATA Sports Science and Data Analytics Task Force Co-Chair Mark Coberley, MS, ATC, LAT, presented to the group about sports science, how it's impacting and changing the athletic training profession and NATA's related initiatives.
"The yearly PFATS meeting is an exceptional educational program for its members, always focusing on emerging and relevant topics of the day in our profession," Coberley said. "The meeting focus this year was on the utilization and integration of sports science in sports medicine. The PFATS educational team assembled a world-class group of experts throughout the day, including speakers from Australia, Europe and sports scientists within the United States, to increase understanding and practical application of sports science in sports medicine."
Below, Coberley discusses his experience at the PFAT meeting and provides insight into sports science as well as the task force's latest efforts.
Why was presenting during the PFAT's meeting significant for the athletic training profession?
This was the first public presentation on the NATA's recognition of the impact of biometrics and data analytics and how they're impacting athletic trainers and their roles as the coordinators of health care. Sports science is, without a doubt, significantly impacting the future of important areas of our practice domains, most particularly injury prevention and mitigation, rehabilitation and return-to-play decisions.
What is sports science?
The working definition of sports science, which has been endorsed by NATA, is: "Sports science is the analysis and application of scientific principles, theories and data used in a collaborative approach to enhance decision-making associated with injury risk mitigation, objective return-to-play criteria and other health and performance outcomes."
Sports science has been associated mostly with athlete load management. However, sports science data includes any data that is physical or physiological that is tracked with an athlete. Sports science data should be correlated to the athlete's health record to look at impacts on each of the variables being tracked for maximal impact. Without correlation to the medical record, it's impossible to know exactly how these metrics relate specifically to the individual. Athletic trainers must have an understanding of what sports science data is available and being tracked, what the information represents and how we can coordinate it in collaboration with other members of the sports health and performance team if we want to continue to be in the position of coordinating overall athlete health and wellness.
How is sports science used in the different athletic training settings even if they're not currently incorporating it into their clinical practice?
Sports science data is currently being utilized regularly in professional and major college sports settings due to their immense resources and accessibility. However, with the advent of wearable technology, data capture on a variety of physical and physiological factors is becoming rapidly available at every level to all of us. It's important the AT have a basic understanding of what these data represents and if/how it can be actionable. The ability for virtually any person to collect data and track metrics on themselves (heart rate, sleeping patterns, heart rate variability, body temperature, distances covered, etc.) has exploded with wearable technology, and is becoming the focus for many tech companies such as Apple. Anyone with wearable technology such as Apple Watch, Garmin, or FitBit is actually looking at sports science data as they view their daily results on their computer or phone. As people gather data and try to utilize it, interpreting what this means is important for the AT to understand. We should be able to explain and assist athletes and patients with interpretation of what this data is actually providing.
How can athletic trainers utilize sports science in their clinical practice, even with a small budget?
Best practices for utilization of sports science data should start by determining what question you are interested in answering, and then determine if there is a measurable method to collect data to help answer the question. There are inexpensive ways to answer these questions scientifically. For example, many coaches, athletic trainers and performance personnel are interested in training load of their athletes. There are many technologies that can help with this, including GPS trackers, video analyzers, etc. However, most sports scientists are discovering that having an athlete rate the day's activities on a standard RPE (rating of perceived exertion) scale and multiplying that by the number of minutes they participated yields a training stress score that can be tracked over time and is very similar to the results they're seeing with more expensive and elaborate athlete tracking systems. Trends in the training loads can be correlated to their health record, and provide us with information at virtually no cost other than the use of an excel spreadsheet.
What is next for the NATA Sports Science and Data Analytics Task Force?
The task force provided an updated white paper to the NATA Board of Directors in early 2022, which provided recommendations for NATA and the AT Strategic Alliance.
For the practicing AT, NATA is beginning to create educational opportunities to learn more about various areas and application of sports science in sports medicine. It's our goal to have content experts – many of who are practicing ATs – conducting webinars and presentations to increase awareness and understanding of sports science for the AT.
For the future AT, we will be looking to the Commission on Accreditation of Athletic Training Education and Board of Certification for the Athletic Trainer to ensure that competency in understanding of this is included in athletic training education and evaluated as part of content of the credentialing process.
An understanding of sports science and its use and application in injury prevention and mitigation, rehabilitation and return to play is certainly going to be essential for the athletic trainer of the future. If we don't accept, understand and embrace this, other professions will likely take over many of these areas that we have typically overseen.