November 2, 2020 by
Beth Sitzler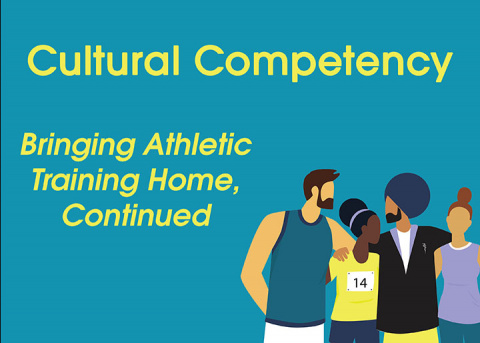 In the November NATA News, NATA Ethnic Diversity Advisory Committee District Four Rep. Samar Long, MSEd, AT, ATC, interviewed Marisha Little, LAT, ATC, and Chris Dake, EdD, LAT, ATC, with the University of West Florida, about their efforts to increase awareness of the athletic training profession on the Navajo Reservation. The duo received two EDAC Diversity Enhancement Grants to support their projects, "Bridging the Cultural Gap Among Navajo High School Students and the Athletic Training Profession" and "Advancing Athletic Training Education on the Navajo Reservation."
The following is a continuation of that conversation. Keep reading to learn more about the UWF team's projects and how representation and cultural understanding can improve health care disparities. 
Samar Long: Have you thought about maybe applying the same approach to different populations?
Christopher Dake: That's a part of the second grant project, "Advancing Athletic Training Education on the Navajo Reservation," to go to the colleges there because athletic training now requiring a master's degree now pushes us toward trying to look at the college students and see what they're wanting to do and promote the profession that way.
So we still want to reach out to high school kids and keep promoting it there, but we have been in the process of reaching out to the colleges there on the reservation to try to find it in who will let us talk to their students.
Marisha Little: Educating the high school students was important because, in my culture, there is a big emphasis on getting an education – in fact the saying that comes from my culture is "go and climb the ladder," which means, "get an education, advance and bring what you learned back to the reservation." This is one of the main reasons the "Bridging the Cultural Gap Among Navajo High School Students and the Athletic Training Profession" grant project started, to give back to my community.
Even though we are teaching that, because of the remote area of the desert location, Diné specifically, it's just really difficult to get any type of resources there. The tribe does what they can. They have scholarships, but my tribe is so big that the scholarships they offer are competitive and a lot of students don't know what to do.
As far as going to college and getting educated, one of the things that was important to me is being able to incite a passion in somebody to pursue education. One of the biggest hopes of mine is that they are motivated by seeing somebody who came from their same school, who is doing these projects and telling them I did an internship at ESPN and other places, and the looks on their faces when they realize that this Diné girl who came from the same town did this. Maybe I can, too. I think for me, being that type of role model is super important and what pushed us down this route was improving the lives of the students there. Hoping that I encourage them to get an education is one of the big underlying factors to this.
Long: Representation is really important to motivate students because it is harder to imagine doing something if you haven't seen it. What are your thoughts on maybe approaching the pipeline into the profession now that we've transitioned to a master's level since the transition is not as direct?
Little: Well, I think that even when the athletic training degree was a bachelor's degree, there were still so many obstacles these students had to overcome. Moving to a master's degree, it might complicate it, a little bit more, but if we can get them into a bachelor's program, the emphasis is still on continuing education.
Dake: We have been shifting some of our focus, not all of it, but trying to reach out to those colleges there on the reservation and promote it there as well. Because out of sight, out of mind. So they may forget even though we did it in high school. But I think if there's some people who we can plant that seed early that is the goal. I hear from a number of our students that they decided to pursue athletic training when they're in early high school or because they met an athletic trainer and they liked him. I think our promotion time may change a little bit. We ultimately want to have athletic trainers in the high schools. The end goal is to try to promote it enough so they see the benefit, cost and the health care, and want to hire people. So the more we're there, the more we can do that promotion.
Long: How do you think that athletic trainers can influence the health care system on reservations?
Little: The end goal is to ensure that Native American communities, and with our work that now all the high schools on the Navajo reservation, have access to an athletic trainer at their high schools. I think that there's so many health disparities that are surrounding the community, and the recent months the COVID-19 pandemic have kind of highlighted the disparities.
On the Navajo reservation, at least, families not having running water and electricity, lack of internet, phone lines, etc. So when you have all of this going on, medical coverage can also sometimes suffer. I honestly believe that an athletic trainer can improve the lives of the surrounding community so much. One of the benefits we're trying to get across in our grant work is that athletic trainers are really adaptable and they can fill in some of these gaps that the students on the reservation might need. ATs would be an important part to the health care team because they'll serve as that centerpiece between the doctor and the community.
High schools are a huge part of the community already and families are coming from all over, at times 50 miles out for this one high school. I think that they'll be able to refer the students who need to be referred out and work with students who can stay at the school.
In the long run, not only will the athletic trainer be a pillar of health and education, but I think that it could also help families with access to medical centers that are sometimes two hours away from where they live. They could even help with chronic disease management, like diabetes, or work on prevention programs with high-risk students and even vision or hearing screenings. I think that's one of the huge benefits of athletic training is that we're so adaptable. The key factor is going to be that the athletic trainer can be the center of the health team and really advocate for the athletes and students.
So it's important to us to get the community to see us as a as an essential part of the health care team and for other medical professionals, as well, because currently, they're not working in settings on the reservation like hospitals.
Long: Just a lack of knowledge in a lot of different communities can be a barrier because they may not know how expansive of a knowledge base ATs have or potential benefits we could in different areas. There is a need to increase diversity in athletic training education programs. What components of your grants have been most beneficial for recruiting students to get into athletic training?
Dake: So knowledge is key. They need to know what an athletic trainer is and what educational requirements are involved in being an athletic trainer. We also did education on clinical setting type.
We did a lesson to focus on some of the fun stuff, like rehab setting and taping, things that would excite them. We also gave them some scholarship information about some of the schools in the in their area. We're coming from Florida, so we provided our information, but also provided other schools that are a closer to them and may be a more realistic option.
The big thing we did as far as recruitment goes was just providing the knowledge, planting the seed and showcasing that not just doctors and nurses, but athletic training is a potential profession for students in the health care class.
Little: I also think it's really important to have other Native American athletic trainers presenting the information, especially so in my culture. We have a particular way that we introduce, which sets up and explains to everybody who we are and how we identify. Because of the strong family ties, the respect we have for our elderly and our extended family through our clan system, you will often hear people referring to each other by family titles. If I were to call someone "Shimásáni," it means "my grandmother" and it is a sign of respect toward the person I am speaking to. Similarly, you may hear someone refer to someone younger as "Shiyázhí," which translates to "my little one." It is a way to form a familial bond and show respect and let them know they are important to you. This is true even if you are not related by blood or what society knows as family relations. You will hear it a lot from Navajo medical professionals who are working with Navajo patients. This is another reason I believe having more Native athletic trainers would be such an important addition to the health care team on reservations. When it comes to students, being of the same culture, it's important because someone from their own community will encourage them, and relating on that cultural line is critical.
For more information about the EDAC Diversity Enhancement Grant and other resources, visit the Diversity Resource and Cultural Competence pages.