June 20, 2019 by
Todd Christman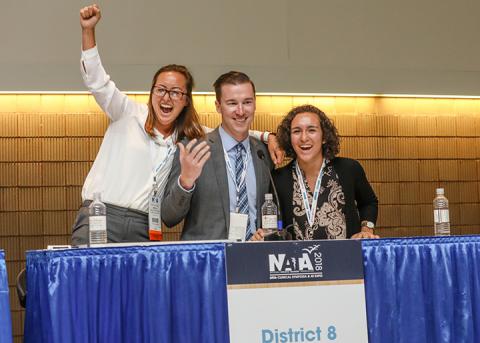 Are you an athletic training student attending the 70th NATA Clinical Symposia & AT Expo in Las Vegas? If you're interested in learning from experienced athletic trainers, seeing a live anatomy lesson or networking with your future colleagues, look no further than the Athletic Training Student Seminar (ATSS). Organized by the NATA Student Leadership Committee, ATSS provides noncredentialed students the opportunity to explore the athletic training profession.
The Student Leadership Committee is excited that you're attending and we can't wait to get to know you. One of the main charges of the Student Leadership Committee is to make sure that you, the students, feel as welcomed and included as possible while in Las Vegas. We hope that you will join us for our student sessions and that you have an incredible week!
Before you go:
Be sure to download the NATA Events app which is available in both the Apple and Google Play stores. This app is handheld gold during convention—it has maps of the Mandalay Bay South Convention Center, session times, locations and more.
Packing:
Be sure to bring your résumé, cover letter and business cards if you have them available. Print a few copies and put them in a padfolio to bring with you to sessions, you never know who you will run into while networking! Bring a backpack or a side bag as you'll accumulate many things throughout the day. For clothing, convention is a great time to leave all the khakis and polos at home. Bring some good walking shoes; something with support is always best. Think of the morning sessions as business professional and the evenings as business casual. Again, you never know who you will meet.
General Tips:
Take a chance to introduce yourself to everyone you can. Go to sessions on topics you're excited about, but also try something new. Be sure to chat with 'Green Jackets', as these are members of the NATA Hall of Fame. Additionally, the Convention Daily News e-blast is sent every morning and gives you a great rundown of what to expect during the week.
Schedule:
Check out the NATA Events app for more information on sessions, speakers and locations.
Monday, June 24 –

NATA 2019 Welcome Reception – 6:30-8 p.m. in Oceanside D. Don't miss out on the opening reception. This year's theme is "Glow," so wear your brightest colors and be ready to dance and enjoy the Spazmatics!
Tuesday, June 25 –

Athletic Training Student Seminar Otho Davis Keynote—8:30-10 a.m. in Lagoon I. Be sure to head to the Student Leadership Committee's Awards and Ortho Davis Keynote Presentation. Our Keynote speaker is former NATA President Marjorie Albohm, MS, AT Ret, presenting "Back to the Future".
The ATSS Breakout Sessions run from 10:15 -11 a.m. and 11:15 a.m. - 12 p.m., so you can attend two sessions that interest you the most. There are six different breakout sessions to choose from:

ATSS Breakout 1: Degree Change Panel in South Seas J
ATSS Breakout 2: Leadership Development in South Seas D
ATSS Breakout 3: Branding Yourself in Lagoon F
ATSS Breakout 4: International Development in Breakers F
ATSS Breakout 5: Innovations in Patient Care in Lagoon J
ATSS Breakout 6: Tactical Training Workshop in Lagoon L

NBATA Ron Culp Cadaver Workshop – 12:45- 2:45 p.m. in Lagoon I. Attendees will get an up-close look at a part of the human anatomy.
NATA Student Reception—4:00-6:15 p.m. in Breakers J. This is a great opportunity to enjoy some free food and network with NATA leadership and other students from around the country.
District Meetings—5:30-6:30 p.m.  Want to know specifically what's going on in your district? You won't want to miss this. Each district will be held in a different location.  
Wednesday, June 26 –

Take some of your morning to look at the Free Communications research posters and attend an oral presentation.  
AT Expo Opens to Students—10 a.m.-5 p.m. in Bayside D. You won't want to miss out on the swag!
ATSS Student Career Roundtables—10:15-11:15 a.m. in Lagoon I. Meet professionals from all over the country and different settings. Meet, listen and interact with someone in your dream career.
NATA 2019 Hall of Fame Induction Ceremony—2-3 p.m. in Shoreline. This is an incredible opportunity to see the best of the best in the athletic training field be honored for their hard work (and gives you a great example of who to aspire to become one day!)
NATA General Session and Annual Members Meeting—3:15- 4:15 p.m. in Shoreline. NATA President Tory Lindley, MS, AT will address membership. You'll hear all about the current state and the future of the association.
NATA 2019 Keynote Presentation—4:15- 5 p.m. in Shoreline. Jon Dorenbos, former NFL long snapper and magician will share his one-of-a-kind story!
11th Annual National Quiz Bowl—5:15-7:15 p.m. in South Seas H. Cheer on your district's quiz bowl team to Quiz Bowl Champions.
Most importantly, make memories that last a lifetime, learn a lot, meet everyone you can and have tons of fun! Share your photos with the Student Leadership Committee on Instagram, Twitter and Facebook and use #NATA2019.