February 2, 2016 by
Todd Christman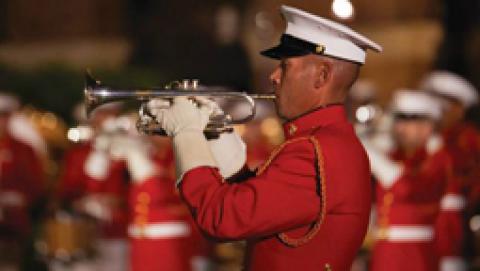 by Moegi Yamaguchi, AT
Lead Athletic Trainer, 2015 Ohio University Marching 110

Marching band is a relatively new area of practice for athletic trainers. Marching musicians may not fall into a typical category of athlete; however, their effort is very physical, and athletic trainers are well-suited to be care providers for them.

Consider that marching band members must carry an extra load that changes their center of mass—a flute, piccolo, or clarinet may be relatively light, but a sousaphone, bass drum, or quad drum set certainly is not. These musicians also must hold their playing posture while moving around a field among one another in intricate patterns and, if a wind instrumentalist, maintain adequate air flow through their instrument throughout a performance.

Many of the injuries seen in marching musicians are chronic injuries such as myofascial pain syndrome and medial tibial stress syndrome (MTSS). Especially during preseason rehearsals, more members experience MTSS than during the season because of their three practices per day in the preseason.

Marching musicians experience myofascial pain syndrome due to poor posture and inadequate core stability to meet their activity demands. In addition, marching members may complain of muscle tightness during the season because they do not spend enough time warming up and stretching prior to rehearsals. ATs have several effective means to treat them and, most importantly, ATs can provide education about stretching and how to hold a proper playing posture. Postural form is important for rehearsing and performing, as well as during instrumental practice time and while doing schoolwork.

Acute injuries occur in marching band, too. In addition to typical ankle sprains and muscular strains, concussions are not unusual. One memorable case occurred during a preseason rehearsal. The injured marcher was a senior mellophone player who was caught in the path of a freshman mellophone player who turned the wrong way in a formation. The senior was struck in the head by the freshman's mellophone because mellophone and trumpet players usually do not raise their bells when they make a turn. Overall in marching band collisions such as these are relatively common during turns and while marching in close ranks.

In summary, providing athletic training services in a marching band context is a fascinating undertaking. The highly active musicians appreciate receiving the same quality care as that offered the football players at whose games they perform.