December 21, 2015 by
Todd Christman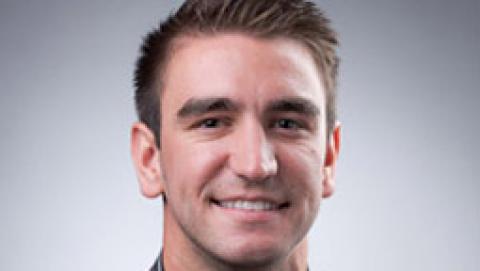 In the
January NATA News
, Adam Quigley, ATC, SCAT, a graduate student at the University of South Carolina, shared how an internship with the University of Arizona football team during his undergraduate studies opened his eyes to a world of possibility. 
"I was able to truly see how athletic trainers went through their work day," he said. "For me, it was great to see what I didn't like and to see what I did like. It created so many more opportunities and thoughts and opinions."
Below, Quigley expands on his time with the Division I football team, his hopes for the future and the people who helped him get to where he is.
Who has been a major influence in your life?
Since this is only my second year of being a certified athletic trainer, there are a few people who have been instrumental in making me the athletic trainer I am today, and will continue to help me expand my knowledge and skill set within the profession for years to come. Those people are Randy Cohen, ATC, DPT, and the football sports medicine staff at the University of Arizona, and at the University of South Carolina, Clint Haggard, MA, ATC, NREMT, the head football athletic trainer, as well as the sports medicine staff. They have all been influential in helping me think for myself and taking initiative in the daily tasks of athletic training as well as teaching me the importance of changing perspective when needed. 
The other most influential person in my athletic training career I've known since my high school days, due to growing up in the same town of Laurel, Maryland, and attending the same high school. Collin Francis, MS, ATC, an assistant athletic trainer with the Indiana University football team, has always been a mentor of mine, helping me in my decisions, specifically in regards to choosing my undergraduate university and graduate assistantship. I am sure that he will continue to help with future professional decisions and shaping my career path for years to come. 
I continue to model the type of athletic trainer I want to be after these people and truly appreciate all they have and will do not only for me, but for sports medicine as a whole. 
What is the most valuable lesson you have learned during your internship with the University of Arizona football team?
The most valuable lesson I learned during my internship experience at the University of Arizona was that perception is reality. No matter what you are doing or where you are, both in athletic training and throughout your life, what others perceive of you is your own reality. If a patient does not believe that you care about their injury and well-being, even if you are extremely passionate, it is perceived that you are not. If you are asked by a supervisor to complete a task and you do not show respect and do not seem confident and competent, even if you are, your supervisor may not provide you with additional opportunities to improve yourself and to grow as a professional. I learned that making the most of every opportunity and showing excitement and interest in a current job or experience and the relationships you build along the road can go a long way, as long as it is perceived in that manner. You never know who you will meet, where you will see them in a few years, and where you will be at that point in your life. These people can open doors to opportunities. People are always watching, so make sure you create your own reality.
During your time as an athletic training student, what achievement are you most proud of and why?
When looking back at my graduate assistantship and undergraduate experiences, I am most proud of how I have been able to help so many people through this profession. I have been able to evaluate patients and recommend take-home rehabilitation plans in the orthopedic clinic. I have also been a part of the time-intensive complete process of initial injury evaluation to full return to play involving evaluation, treatment, referral to a physician (if needed), scrubbing-in on the surgery and working with the patient through their full rehabilitation progression. These relationships I have built and the lives I believe I have touched are irrevocable. Yes, scholarships and awards are great, but those came with hard work and determination. The true "feel good" moments are when you put all of the knowledge you worked so hard to gain to the test, and the patient is able to continue to do what they love because of it.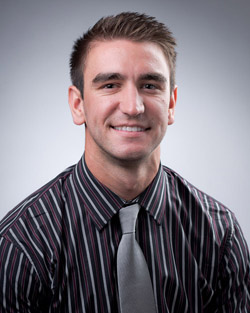 What are your goals for the future?
By the time I graduate in May, I am hoping that I will have a job lined up that will involve either Division I football or soccer, or some type of position within a professional soccer organization. Besides those "get a job" goals every athletic trainer receiving their graduate degree has, I am more so interested in continuing to provide patient care to help people continue to do what they love at the highest level possible. I think that my experiences as a collegiate soccer player, and my wide variety of athletic training experiences in collegiate and high school athletics, as well as the orthopedic clinic, makes me a well-rounded (versed) candidate for these positions. As long as I am the best person for that position, and it will help me grow—wherever that is—I will be happy. I am just hoping that it will be in high-level soccer or football.
If you weren't studying athletic training, what other profession would you pursue?
If I was not studying athletic training, or any profession within health care for that matter, I think I would go into leadership development or sports marketing. I think that having a "knack" for the sports industry is something that cannot be overlooked and something I could not let go. I also really enjoy working with teenagers through leadership development and athletics to try to expand their knowledge of the world and wellness and how to succeed in today's society, which leadership and athletics translates into well.
What do you like to do in your free time?
In my free time I like to play soccer, travel, play guitar and spend time with friends, family and my two beagles and exploring the community and surrounding areas. I am always the person in my group of friends who has an ever-growing list of restaurants to discover in the area no matter how classy or "dive-like" they are.