March 27, 2019 by
Todd Christman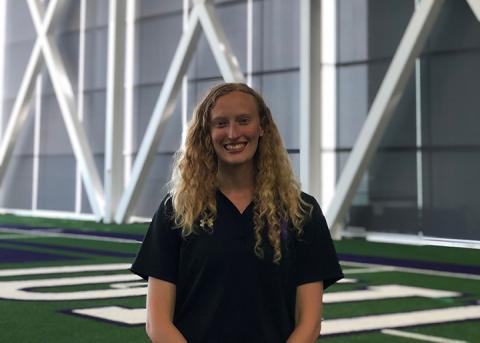 By Elisabeth Hutchins
My experience at Northwestern will never be forgotten. After seeing a Northwestern Sports Medicine Instagram post about welcoming athletic training interns, I inquired about the opportunity with one of the associate athletic trainers. A few emails and a video interview later, I was offered an internship position. A week after finals I began the three-day trek from Beverly, Massachusetts, to Evanston, Illinois.
Upon arriving to the house I would call home for the next three months, I was eager to explore and see the state of the art sports complex, the Walter Athletic Center. Despite still being under construction, turning the corner of the road that led to the Ryan Fieldhouse, my mouth dropped. The building was massive with one side of glass windows overlooking the beautiful Lake Michigan. In awe, I snapped a few pictures, soaked in the lake air, and headed back for some sleep as my 5 a.m. report time to Northwestern Sports Medicine came too quickly.
The Endicott College Athletic Training Education Program provided me the resources, education and clinical experiences to have the confidence in my skills and knowledge. By the end of junior year, I had the foundation for success as all my core athletic training courses had been completed.
Despite knowing I had a solid foundation, the first few days were intimidating. I was thrown right into the daily schedule. Other athletic training students helped me to set up the indoor field with hydration and emergency equipment for the morning football team training in the Buehler athletic training room and Welsh-Ryan fieldhouse. Athletic training students had the opportunity to assist our preceptors with urine specific gravity tests. Student athletes would provide a specimen and the interns would use a refractometer to measure the specific density of the urine and then log the results. Required hydration testing depended on certain general medical conditions, musculoskeletal pathologies and weight loss pertaining to dehydration with the overall goal to keep the student athletes safe.
In addition to maintaining proper hydration of the student athletes, the interns would utilize the time during daily training sessions to analyze the movements, exercises and loads a student athlete would perform. The athletic training students and certified athletic trainers would use this knowledge to build rehabilitation plans for the student athletes as well as to determine readiness to return to participation.
After one more training session, it was time to take down and clean up. Post training sessions, on that day, consisted of student athlete rehabilitations, and orientation to the Northwestern Sports Medicine Department. Until August, post training sessions would include a variety of opportunities such as: musculoskeletal/injury evaluations, walking student athletes through rehabilitation plans, packing for the move to the Kaufman athletic training clinic within the new Walter Athletic Center, driving student athletes to appointments and working on an injury matrix project to find trends and improve overall student athlete care.
I was exposed to modalities that I had not worked with in past clinical experiences such as laser, blood flow restriction therapy, hydrotherapy, underwater treadmill, Alter-G (altered gravity) treadmill and NordBord for hamstring strengthening and testing. The day was full of treatments with the football student athletes. That was day one. The majority of the days up until August, when camp would begin, were much of the same with earlier mornings. Long days, but worth it.
During the months at Northwestern, I had the privilege to be a part of the Northwestern Sports Medicine Program. I met professionals from various medical professions: athletic trainers, physicians, registered dietitians, dental surgeons, leading specialty orthopedic surgeons, chiropractors and podiatrists. Individual members of the sports medicine staff were open and excited to help interns grow as professionals and students. In the athletic training facility, we were able to work with student athletes and athletic trainers from various sports. Many conversations were centered on evidence-based practice and research. In-depth discussions about injuries, physiology and mechanisms with various football athletic trainers were had to challenge us in our critical thinking. Individual one-on-one meetings with NATA President Tory Lindley, MA, ATC, were encouraged. The opportunity to have a few discussions with Lindley helped me grow as a professional by allowing me to think about the field of athletic training as a whole and see the future direction of the profession.
Professionalism, from the attire to the interactions with coaches, strength and conditioning staff and others, was a high priority at Northwestern. Athletic training is also known for an ever-changing schedule and patient volumes, which is why I quickly learned the value placed on open and effective communication within the Northwestern Sports Medicine Department. Group messages sounded at all times of the day and night ensuring clear communication.
Additionally, teamwork between interns and staff was crucial. As a group of athletic training students, we worked together every day to set up training sessions and conduct treatments. We helped each other out, collaborated on ideas and learned from each other. I met a total of 18 athletic training students from programs around the United States and Ireland; it gave a whole new meaning to peer-to-peer learning.
As athletic training students, one of our responsibilities was to take student athletes to appointments and take notes on the appointment. Each specialist I met, whether it be orthopedic surgeon, dental surgeon or physical therapist, taught me more than I thought was possible in roughly 20 minutes. The physicians were eager to teach, test our knowledge and go out of their way to educate me about a particular injury.
We attended in-service visits from various medical companies presenting on their new products and devices and how they may benefit the student athletes. It was a great opportunity discuss products in great length, question against published studies, and see results first-hand by utilizing the products in the clinic.
The athletic training staff at Northwestern completes regular emergency training scenarios. As athletic training students, we had the opportunity to observe and provide some feedback on the scenarios athletic trainers practiced. One of the scenarios was geared toward approaching and interacting with athletes that are in a mental health emergency. Meaningful discussions were had around the topic of mental health and the available resources for athletic trainers at Northwestern to utilize when an emergency mental health problem arises. Few classes or clinical discussions that I have been a part of up to this point have been centered around the management of an athlete with a mental health emergency.
While my time at Northwestern was spent primarily with the football student athletes and athletic trainers, I was able to spend a few days with the performance nutrition program. I learned in depth about hydration testing protocols from the performance nutrition perspective.
Football student athletes weighed in and out on Gatorade scales with cloud based technology before training sessions and practices. Based on the student athlete's change in weight, the scale provided recommendations for the proper way to replenish nutrients lost during a practice. Registered dietitians reviewed the results of all football student athletes, and if any of the athletes lost more than 2.5 percent of their body weight, the student athlete was placed on the hydration testing list for the subsequent morning. I had the opportunity to sit in on a consultation with a student athlete and registered dietitian.
Additionally, I spent time with the registered dietitian who specifically manages the student athletes dining services. The student athletes are provided with a dining facility specifically for them that is globally called a training table. I learned about the logistics behind serving specific foods to student athletes to increase recovery and performance as well as how the flow of the training table is conducive to creating a properly portioned plate to fuel the student athletes.
My time with the performance nutrition program allowed me to solidify the passion I have for nutrition and helping athletes to be able to perform at an optimal level both in the fuel athletes consume and in a healthy musculoskeletal system.
My time at Northwestern was nothing less than amazing. Some statistics from my summer: thousands of learning opportunities, 475.75 volunteering hours, 20 AT connections, 18 fellow athletic training students, eight doctor connections, five sports dietitian connections, four days of away football camp and one unforgettable summer internship experience.
Since my return to Endicott, and the athletic training education program, I have noticed the impact three months at Northwestern made on my academic and clinical knowledge. Gaining numerous patient contact hours at Northwestern has helped me connect with the student athletes that I see at Endicott College with ease.
Additionally, I am able to bring back new skills and different variations of skills and exercises that benefit my peers and student athletes. Northwestern helped me gain a new perspective on choosing a treatment, through the use of evidence-based practice. Some commonly used modality treatments that latest researchers are showing less effective results and suggest alternative treatment plans. Northwestern taught me that not all commonly used modality treatments are necessarily the best treatment option based on latest literature. Northwestern Sports Medicine strives to solely use evidence-based practices. 
I am able to bring the knowledge back to Endicott and improve student athlete rehabilitation and inform my peers on the new research. Overall, my confidence in my clinical skills and knowledge base has improved tremendously. My time at Northwestern not only help make me a better clinician, but also helped my peers and student athletes I work with daily.