February 10, 2016 by
Todd Christman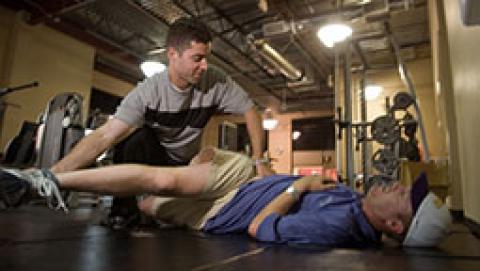 By Forrest Pecha, MS, ATC, CSCS
on behalf of CAATE

Webster's definition of residency includes, "A period of advanced training in a medical specialty." This is important to understand when considering the goals and standards of post-professional athletic training residency programs (PPATR).

The breadth of professional athletic training educational knowledge is wide, however the depth is shallow. I would argue post-professional degree and residency programs are developed to create depth of knowledge and an advanced skills set in a concentrated area. They are designed to create specialists in designated educational competencies, as well as for the profession itself.

The Commission on Accreditation of Athletic Training Education (CAATE) has developed accreditation Standards required for post-professional athletic training residencies. Post-professional Athletic Training Residency Program (PPATR) six core competencies include; 1. Patient Centered Care, 2. Interdisciplinary Collaboration, 3. Evidence Based Practice, 4. Quality Improvement, 5. Healthcare Informatics, and 6. Professionalism. This education outline follows the medical education model that our healthcare colleagues already incorporate. If we look at the medical model for post-professional physician education, only those residencies and fellowships that meet and adhere to Accreditation Council for Graduate Medical Education (ACGME) standards are accredited, thus bringing credibility and validity to the educational programming.

The CAATE, similar to ACGME, is, and should be, the governing body that evaluates the quality of educational programming for athletic training residencies and thus approves program accreditation. With the educational reform for professional athletic training, those programs looking to replace their current GA positions should not look to the residency education paradigm to meet those needs. Those programs interested in developing a PPATR should research and understand the educational requirements set forth by CAATE as the gold standard for advanced knowledge within the profession. Only those programs that meet the standards will be awarded accreditation, consequently bringing validity to their program. This is similar to the current professional and post-professional standards of athletic training education programs. "Residency" programs that do not meet or strive to achieve CAATE accreditation should be suspect to the quality of the program and their intended goals.

Residency programs are not intended to be an alternative to graduate assistant programs, provide a labor source for an institution, or an employer-based on-the-job training program. They should, however, be focused on patient-based specialization that provides preparation of the resident as an advanced practice healthcare provider.

Educational parameters should not be in training ATs to be successful in a specific professional setting, but instead should teach ATs advanced knowledge and skill sets in a clinical area of focus, as defined by CAATE. For example, a PPATR could be housed within a physician practice setting, and the educational goals of the residency should focus on a clinical area of focus such as clinical evaluation and diagnosis, rather than preparing a "clinical" AT. The educational goals and clinical area of focus is designed to advance the entry-level knowledge of the AT within the domains of AT education. Athletic Training residents should be evaluated on their progress and their measured outcomes to demonstrate their advanced learning. These skills should also be able to be transferred into any professional athletic training setting.

As more residency programs are developed, and a cohort of advanced practicing athletic trainers are in the workforce, specialty certification can and should be considered. Again, to follow the medical model, specialty certification is designed for those professionals who have learned and demonstrated advanced skills in a specific area within the professions' educational domains.

As we advance our profession and professional education, I would hope our goals would be to closer align athletic training with other healthcare professionals, follow the medical education model, and strive to bring credibility to who we are as professionals in the healthcare community. Post-professional athletic training residency programs are one avenue, if done correctly, which are a step in the right direction.