September 16, 2014 by
Todd Christman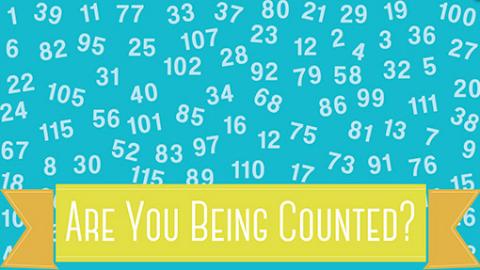 Required by many employers, the NPI is the standard identifier among health care professionals. NATA feels that
all
athletic trainers should have their NPI; in fact, members are now required to have one in order to serve on any NATA committee.
With the goal of increasing athletic trainers' representation amongst other health care professionals and industry leaders, NATA kicked off the "Are You Being Counted?" contest during this year's convention in Indianapolis. To participate, ATs were asked to either 1) apply to receive an NPI for the first time or 2) ensure that their NPI includes the proper athletic trainer taxonomy code (2255A2300X). Members with an existing NPI were automatically entered into the contest and counted for their district.
The two-month long contest closed on Aug. 31, and featured two opportunities to win: First place (and bragging rights, of course) was awarded to the district that had the highest total percentage of ATs with NPIs (Congratulations, District Four!), as well as the district that demonstrated the highest increase in NPI-registered ATs through the contest (you too, District Three!)
Five randomly selected members from each winning district will receive their choice of complimentary #NATA2015 registration or membership dues for one year. Winners must be in good standing with NATA and have their NPI with the athletic training taxonomy code. Stay tuned for announcement of these lucky members!
The real contest winner, however, was the athletic training profession as a whole, with the addition of more than 1,500 NPI-registered ATs. Overall, the number of AT NPIs increased from 14,096 in February 2014 to 15,823 in August 2014. That is 1,727 new athletic trainers represented in the National NPI Registry in just six months!
Final NPI Contest Results: District Standings
Category 1: Highest Percentage of Members with NPI
Ranking
District
Total ATs with NPI2
% Certified Members with NPI
1
District 04
           4,099
56.421%
2
District 09
           2,443
50.123%
3
District 10
               707
49.475%
4
District 01
           1,125
48.491%
5
District 02
           2,207
44.308%
6
District 03
           1,761
44.213%
7
District 06
               850
42.079%
8
District 05
           1,197
40.303%
9
District 07
               665
35.335%
10
District 08
               769
28.812%
National
         15,823
46.006%
Category 2: Largest Percent Increase of Members with NPI
Ranking
District
Total ATs with NPI2
% Increase in Certified Members with NPI
1
District 03
             1,761
4.202%
2
District 07
                 665
2.426%
3
District 06
                 850
1.970%
4
District 02
             2,207
0.957%
5
District 05
             1,197
0.919%
6
District 08
                 769
0.376%
7
District 09
             2,443
-0.083%
8
District 10
                 707
-0.294%
9
District 01
             1,125
-1.170%
10
District 04
             4,099
-2.039%
National
           15,823
0.497%
Midway NPI Contest Update: State Standings
Category 1: Highest Percentage of Members with NPI
Ranking
State
Total ATs with NPI2
% Certified Members with NPI
1
DC
              52
81.250%
2
Vermont
           107
67.296%
3
Michigan
           611
60.138%
4
Wisconsin
           513
59.651%
5
Arkansas
           129
58.636%
National
15,823
46.006%
Category 2: Largest Percent Increase of Members with NPI
Ranking
State
Total ATs with NPI2
% Increase in Certified Members with NPI
1
DC
              52
28.618%
2
North Dakota
              85
15.799%
3
Maryland
           281
8.727%
4
South Carolina
           306
6.782%
5
Louisiana
           165
5.919%
National
15,823
0.497%
Please note: District or state percentage change may be negative due to an increase in membership.

-posted by NATA News Managing Editor Jaimie Siegle (jaimies@nata.org)