September 18, 2015 by
Todd Christman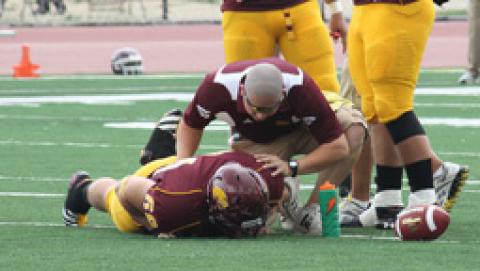 By John Doherty, ATC, PT

Within fairly short order last week, three teams vying for two different championships had their hopes fractured by one type of injury: a broken bone.
On Friday, an MRI to N.Y. Yankees first baseman Mark Teixeira's right tibia confirmed what had been obvious for weeks. A foul ball on Aug. 17 had not inflicted a mere bone bruise, but a stress fracture instead.
The Yankees, in the midst of a pennant race with the Toronto Blue Jays in the American League East, will now be without their top power hitter for the remainder of the season.
On Saturday, fate evened the score, when Blue Jays center fielder Kevin Pillar ran full speed into Troy Tulowitzki an instant after the All-Star shortstop had caught a pop-up on the grass behind second base.
Remarkably, Tulowitzki kept his feet and hung onto the ball — for a moment.
You can read the full version of this article in 
The Times
. John Doherty is a licensed athletic trainer and physical therapist. This column reflects solely his opinion. Reach him at 
jdoherty@comhs.org
. Follow him on Twitter 
@JDohertyATCPT
.