October 10, 2022 by
Todd Christman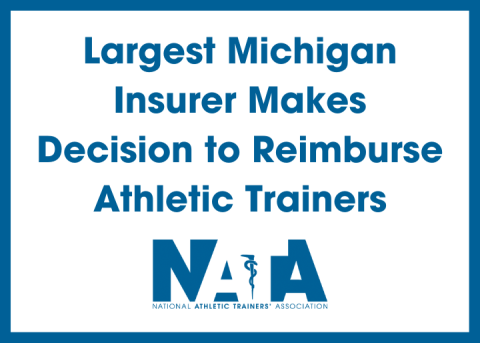 By Joe Greene, MS, ATC
Facilitator, NATA Third Party Reimbursement Initiative
 
Blue Cross Blue Shield of Michigan, the largest health care insurer in Michigan, has made the decision to reimburse physical medicine and rehabilitation services rendered by athletic trainers. The care provided must be medically necessary, as required with all other providers.
Athletic trainers will use Athletic Training Evaluation Codes (97169, 97170, 97171) and subsequent 97XXX PM&R codes available to them and follow documentation processes consistent with physical therapists and occupational therapists. In these scenarios, athletic trainers would work under a referral/consult and deliver rehabilitation services under a plan of care developed by the athletic trainer. Previously, the athletic trainer was required to work under direct supervision of a physical therapist to secure reimbursement from Blue Cross Blue Shield of Michigan.
Blue Cross Blue Shield of Michigan joins Anthem Blue Cross Blue Shield of Georgia, Indiana and Wisconsin as well as Blue Cross Blue Shield of Vermont in making this decision formal policy. Other Blue Cross Blue Shield entities have reimbursed similarly under prior authorization in other states.
The Michigan Athletic Trainers' Society (MATS) and representatives of NATA have worked closely with Blue Cross Blue Shield of Michigan to effectively communicate this decision, and to help implement the new policy. It has been a very collaborative journey. Both NATA and MATS wish to express their sincere appreciation to Blue Cross Blue Shield of Michigan for its thorough evaluation and for making the decision that will allow athletic trainers to function to the level of their scope of practice in the outpatient rehabilitation setting.