March 4, 2019 by
Todd Christman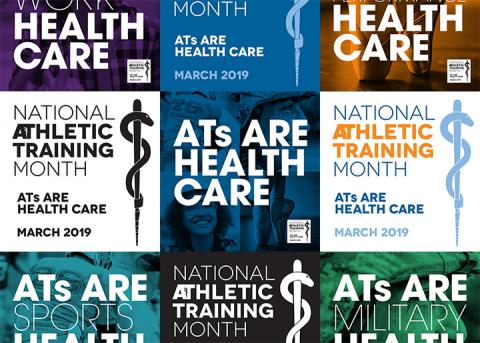 Every day presents an opportunity for NATA to highlight the impact athletic trainers have on work, life and sport. From meeting with legislators about the critical role you play in health care to educating the media and public about #ATimpact, athletic training, and the dedicated health care professionals we serve, are always on our minds.
National Athletic Training Month (NATM) is a special time of the year during which we all align around one consistent message to celebrate athletic trainers and elucidate the significant contributions you have made – and continue to make – to advance patient care. It is an opportunity for all athletic trainers and AT advocates to help us celebrate the profession.
At NATA, we believe the best way to honor athletic trainers during NATM is to share your impact in health care. The 2019 NATM theme, "ATs Are Health Care," allows us to do just that. Throughout March, we will execute a host of plans to celebrate our members, as well as educate external audiences (i.e. parents, employers and the media). Expect to see a steady stream of digital and social content to show the great work you do every day to improve patient care as well as the fun and creative ways your peers are commemorating NATM.
We are also leveraging trending national and international events such as International Women's Day and Women's History Month by highlighting some of our own AT female leaders. We can't speak about AT impact without discussing the pivotal role research plays in athletic training. Therefore, throughout the month, we are releasing research to advance conversation around your role in prevention and overall public health.
In the words of President Tory Lindley, MA, ATC, we all have a story to tell; a story that patients, the public, media, legislators, employers, public officials, parents – everyone – needs to hear. Our goal for NATM is to use this moment in time to amplify your story. Thank you for your tireless dedication to the profession of athletic training, the patients you serve every day and for advancing health care. Happy National Athletic Training Month!  
Happy #NATM2019 from the staff at NATA HQ! And a sincere THANK YOU to all the athletic trainers around the world demonstrating that #ATsAreHealthCare. @NATA_District1 @natad2 @D3_MAATA @D4updates @MAATAD5 @SWATAD6 @RMATAD7 @FWATAD8 @SEATA9 @NWATAd10 pic.twitter.com/ztKQwya0jF

— NATA Office (@NATA1950) March 1, 2019