June 15, 2018 by
Todd Christman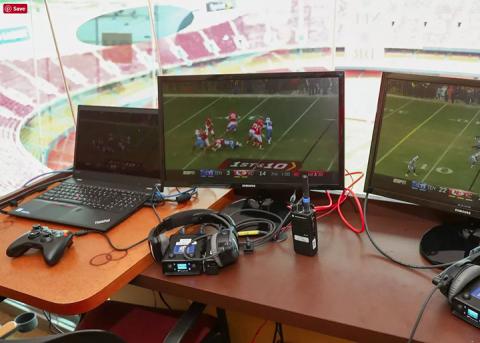 Earlier this week the NFL, Kansas City Chiefs and NFL Physicians Society held a behind-the-scenes health & safety media tour at Arrowhead Stadium. Speakers included NFL Senior VP of Health and Safety Policy Jeff Miller and Chiefs VP of Sports Medicine and Performance Rick Burkholder. Various media outlets covered the tour and you can find a sampling of that coverage below: 
Here's a video recap from Kansas City CBS affiliate KCTV5.  
Another article was featured in the Kansas City Business Journal. 
The tour also made an impact on social media: 
From the spotter's booth high above the action to the equipment used on game day, @proatc walked the media through the Chiefs' health and safety procedures on Wednesday.https://t.co/jQdfVZB56X

— Matt McMullen (@KCChiefs_Matt) June 14, 2018
Today the Chiefs gave us a behind-the-scenes look at the medical facilities at Arrowhead Stadium. @TomKCTV5 guides the way at 10 pm on @KCTV5. pic.twitter.com/nZs2jvYA7y

— Dani Welniak (@KCTVDani) June 14, 2018
Appreciate @proatc @AllenWright4 and @Chiefs being proactive and taking lead in player safety @Chiefs @NFL ....this pic.twitter.com/PhATQ5anp6

— Mitch Holthus (@mitchholthus) June 14, 2018
Just finished up a tour of the Arrowhead Stadium medical facilities and speaking with Chiefs and NFL health and safety officials related to concussions and other injuries. Fascinating process the team and league goes through, will have more on the site soon. pic.twitter.com/R3OWZAOpZy

— Matt Derrick (@mattderrick) June 13, 2018
Burkholder is talking about the 8 hour practice his medical team had for every situation that can happen in the field. pic.twitter.com/86mrC2IKaL

— Soren Petro (@SorenPetro) June 13, 2018