December 9, 2014 by
NATA Admin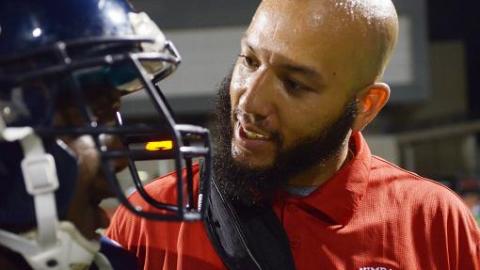 My wife showed me a video on YouTube the other day of a little girl standing on the bathroom counter giving herself a pep talk.  She goes through a number of different things she likes about herself, her family and her house before hopping down and proceeding with her day as usual (If you haven't seen it, it is pretty cute.)

For any old school Saturday Night Live fans, the "Daily Affirmation" sketch with Stuart Smalley featuring Michael Jordan is very similar. I'll admit that unlike Smalley, I've never looked in the mirror and said to myself, "I'm good enough, I'm smart enough, and doggone it, people like me!" But I have had to utilize positive self-talk, and that's why I'm writing today.

I'd be willing to bet that it's not just my own students feeling the pressure as they head down the home stretch of the semester.  Project deadlines are approaching, finals are around the corner and, quite frankly, the prospect of time off may at times seem more appealing than doing either of those things.

Trust me, I feel the same way: In between the 138 written assignments to grade for my online Medical Conditions and Pharmacology in Sport course  and the dozen or so letters of recommendation to write, I'll have to find time to grade 27 more exams for my Therapeutic Modalities course, as well as write and administer a Lower Extremity class exam. And that is all before I tackle finals.

Prior to writing this I went back to read my earlier NATA Now blog post from May about resilience, because I see positive self-talk as a companion to that. According to mayoclinic.org, "self-talk is the endless stream of unspoken thoughts that run through your head. These automatic thoughts can be positive or negative. Some of your self-talk comes from logic and reason. Other self-talk may arise from misconceptions that you create because of lack of information."  As you think about your thoughts (as strange as that sounds), are your thoughts in more of the negative spectrum?  If so, you probably approach life pessimistically.  If they are positive, you are most likely more of an optimist.  As an optimist, I am confident you can progress towards becoming one if you are not.  It will take some work, but you can do it.  Below are a few ways to think and behave in a more positive and optimistic way, as recommended on the Mayo Clinic website:
Identify areas to change. In order to engage in more positive thinking, first identify areas of your life that you typically think negatively about, whether it's work, your daily commute or a relationship. Start small by focusing on one area to approach more optimistically.
Check your thoughts. Periodically during the day, stop and evaluate what you're thinking. If you find that your thoughts are mainly negative, try to find a way to put a positive spin on them.
Be open to humor. Give yourself permission to smile or laugh, especially during difficult times. Seek humor in everyday happenings. When you can laugh at life, you feel less stressed.
Follow a healthy lifestyle. Exercise at least three times a week to positively affect mood and reduce stress. Follow a balanced diet to fuel your mind and body, and learn techniques to manage stress.
Surround yourself with positive people. Make sure those in your life are positive, supportive people you can depend on to give helpful advice and feedback. Negative people may increase your stress level and make you doubt your ability to manage stress healthily and effectively.
Practice positive self-talk. Start by following one simple rule: Don't say anything to yourself that you wouldn't say to anyone else. Be gentle and encouraging with yourself. If a negative thought enters your mind, evaluate it rationally and respond with affirmations of what is good about you.
No matter what the challenge you might currently be facing, take a minute to look in the mirror as Jessica did and say, "I can do anything good!" Start practicing positive self-talk today and regardless of whether your circumstances change, see if your outlook doesn't.

Jeremy Hawkins, PhD, ATC, is the athletic training program director at Colorado Mesa University.
Posted by NATA News Managing Editor Jaimie Siegle (jaimies@nata.org)
Photo: Kimball High School AT Aaron Ellis, MEd, ATC, LAT, helps a player on the sidelines during a Friday Night Football game in Dallas, Texas. (by Renee Fernandes/NATA)