April 10, 2014 by
NATA Admin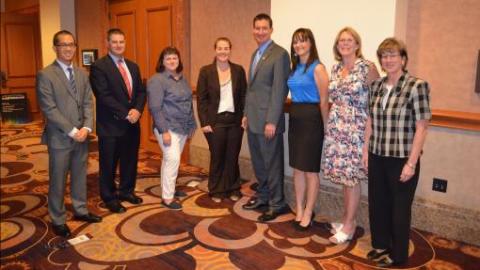 There's still time to apply for the 2014 NATA Foundation Mentor Program! This unique initiative from the NATA Foundation pairs a small group of "young investigators" with a mentor to provide assistance, advice or collaborative efforts on projects, grant reviews, research, academic manuscripts and more. The program is also a great opportunity to connect with experienced ATs conducting research in the clinical or academic setting. The partnership fosters professional growth for both the young investigator/mentee and the mentor, as well as for the athletic training field as a whole.

To be considered as a young investigator/mentee for the program, applicants should meet the following requirements:
Completed PhD training
Currently working in a research capacity
Academic rank is no higher than assistant professor for the semester prior to April application
First author on a research publication beyond his/her dissertation
Current NATA member and BOC-certified athletic trainer in good standing
Submit an application along with a current CV to NATA Foundation Director Rachael Oats by May 1, 2014 to be considered for the program. Selections will be announced by June 1, 2014; however, applications of members not selected will be kept on file in the event a suitable mentor becomes available at a future date.

For more information on this initiative and other NATA Foundation programs, visit www.natafoundation.org.

-Jaimie Siegle, NATA Editorial Specialist (jaimies@nata.org)

Photo: The 2013 mentor participants gather for a photo at the NATA convention in Las Vegas last year.