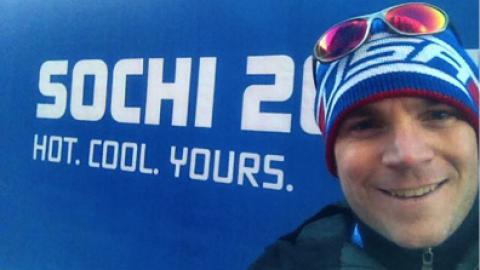 By Benjamin Towne, MA, ATC
Two months ago, I was given the opportunity to fulfill a lifelong dream by serving as an athletic trainer for the USOC Medical Staff for the 2014 Winter Olympic Games in Sochi, Russia.  A common question I hear is, "How did you get involved?" Like anything in life, there are multiple paths to get to the same destination, but I can certainly share mine.
The first step was searching for the USOC Sports Medicine Volunteer Program (during which I quickly learned you needed to be a practitioner for at least three years prior to even APPLYING for the program). I was stunned. You mean they want
experienced
clinicians working with the world's best athletes? Well, I guess that makes sense. So I went off to graduate school, then the workforce.  I tabled my dream and ended up applying four years later.
Months later a letter appeared, and I was invited to spend two weeks at the Olympic Training Center in Lake Placid, N.Y., where I served my rotation with another AT and an orthopedic physician. We covered various sports for two weeks, including skeleton, luge, rowing and ice hockey. I was evaluated by any athlete/coach/sports medicine staff with whom I came into contact. If the rotation went well, I would be invited to a national trip with a team when, and if, an opening became available.  The following year I was invited to travel with the US Skeleton and Bobsled Federation to Park City, Utah for a two-week volunteer stint. I had never been to a track before, and the sport was entirely new to me– world class sprinters who flew down the ice, encountering gravitational forces, concussions, burns, etc.  It was an eye opener, to say the least. I even spine boarded my first injury on the ice.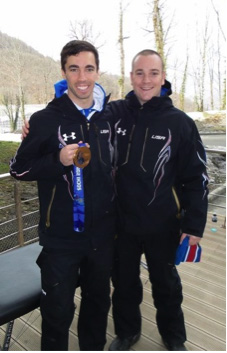 Ben Towne (right) with 2014 Men's Skeleton Olympic Bronze Medalist Matt Antoine
I was evaluated and eventually invited to travel with the team again, this time to the 2008 World Championships in Altenberg, Germany. I spent two weeks working with the Bobsled and Skeleton team, and work I did! There were many crashes, and I utilized every bit of my athletic training education and experience during that period. I began making regular international trips with the team over the next several years. I made sure to volunteer regularly and had the opportunity to experience Germany, Switzerland, Italy and France to name a few.  It was awesome!
Seven years after my work first began with the USOC, I was invited to work "The Games."  I can't concisely express what that meant to me. I was able to wear Team USA gear for my country! I would finally obtain a goal I had held so dear for so long.  It was an amazing experience and one for which I will forever be grateful and appreciative.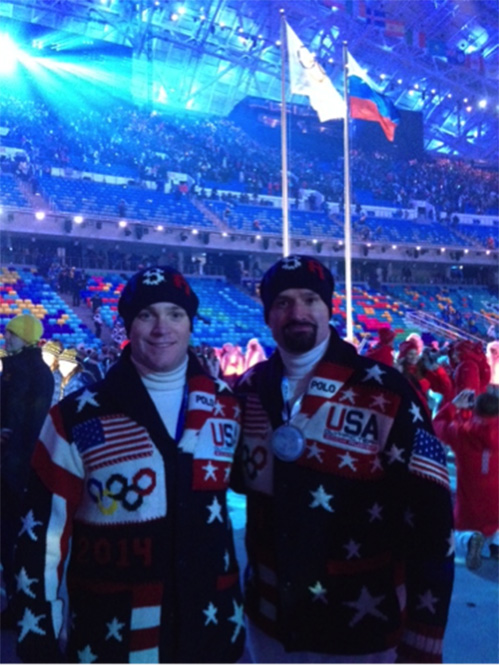 Ben Towne at the Opening Ceremonies with Dr. Marc Taczanowski, DC, DACBSP, CSCS
That said, here is some advice for other ATs who are interested in working with Team USA:
Be patient. It can take some time to become involved with the USOC.  One aspect I hadn't considered when I was younger was that it takes time to develop experience with many Olympic sports, as they are not "everyday" sports for many ATs.  As hard as it was, I needed that time.  Plus you have to remember there are many other ATs and health care professionals who share the same dream. 
Play well with others. The setting itself is interdisciplinary. You MUST be able to work with coaches, athletes, chiropractors, PTs, massage therapists, physicians, etc.  They are all valuable stakeholders, and I can't say how much I have learned about the sport and human body from each and every one of them. 
Have a varied skill set, and be ready to employ those skills at any time.  I've had unconscious athletes on the ice, debrided burns, provided manual therapy techniques– you name it, I've probably encountered it. The sport itself demands a proficient practitioner in emergency management, body maintenance and rehabilitation.
ATs can enhance sport performance. Much of the day-to-day "maintenance" that occurs with athletes isn't reactionary; it's preventative treatment which can even enhance performance. 
For those interested, you can read more in-depth about my thoughts and experiences in Sochi at
www.essentialatc.blogspot.com
.
Posted by Jordan Grantham (jordang@nata.org) on behalf of blog author Benjamin Towne, MA, AT