April 24, 2014 by
NATA Admin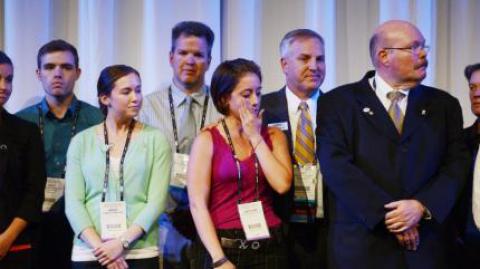 Of the 36 Boston Marathon events he's worked as a medical volunteer, Brian FitzGerald, BSN, ATC, LAT, the event's longtime athletic training coordinator, said this year was the most memorable.
With many more individuals running the race this year — about 36,000 in total — the number of medical volunteers increased to almost 2,000. Of that group, 230 were athletic trainers and AT students.
In addition to beefed up cameras, security guards and undercover cops, FitzGerald said one of the most important medical improvements was adding both an AT and a physician to offer assessments and check-ups at every Red Cross station, located approximately one mile apart throughout the course.
"Those Red Cross stations were hit pretty hard with the heat," he said, and so were the medical areas : About 18 individuals received ice immersion treatments, and both tents remained steadily busy throughout the event. Although nervousness and anxiety hung in the air prior to the race, it dissipated as the day went on. 
"When the gun went off and the runners came across, it was like business as usual," FitzGerald said. "And then when an American won it, it transformed the day into a lot of healing and joy for all of us who were there last year — I could certainly feel it and see it in others' faces."
Asked whether he's going to serve as a medical volunteer for a 37th  Boston Marathon, Fitzgerald doesn't hesitate to respond: "Absolutely!" He said. "People were certainly traumatized for a long time but it's like with any challenge — you get over it, and get beyond it."

Photo caption: FitzGerald, right, and some of the 2013 Boston Marathon athletic trainers were recognized for their heroic efforts during the General Session at the 2013 NATA convention.
by Jaimie Siegle, Editorial Specialist (jaimies@nata.org)