June 24, 2019 by
marketing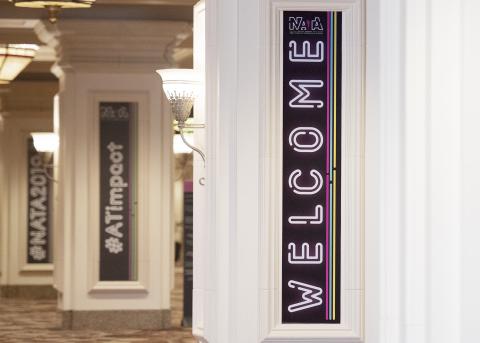 By Kim Diggs
While today marks the official start of the 70th NATA Clinical Symposia & AT Expo, yesterday we brought in NATA 2019 with a bang. The Welcome Reception, held Monday, June 24, brought the neon lights of the strip to the dance floor in Oceanside D. NATA members, family and friends donned their glow-in-the-dark finest as they danced to the tunes of DJ Daddyfats and '80s New Wave band, The Spazmatics.
Today through Thursday, June 27, attendees will have the opportunity to choose from 140 sessions, 45 Oral Presentations and 308 Free Communication Poster Presentations when deciding which events to attend. During NATA 2019, 286 speakers, chosen by the Convention Program Committee, and 586 Free Communication presenters will discuss a variety of topics meant to push the profession forward.
"The goal of the CPC is to develop and offer programming that is impactful to the clinical practice of athletic training and aspirational to the research and education facets of our profession," said Kavin Tsang, PhD, ATC, CPC chair.
In order to reach a diverse professional population, the CPC made the decision to incorporate themes into the 70th NATA Clinical Symposia & AT Expo. The themes this year are: Performing Arts, Care Across the Lifespan and Manual Therapy. CPC selected these topics two years ago using member feedback and examining hot topics in the athletic training profession.
"We feel the themes are based on currency," Tsang said. "Sometimes, it can be trendy. But, we're always trying to be a little ahead of the game. We try to project things that will be very relevant. Though we can't predict the future, we can discuss what we feel may be a hot topic down the line."
Those still planning their schedules will find that themed events span the course of NATA 2019.
Attendees aiming to preview some of the profession's leading products can be part of the excitement at 10 a.m. today in NATA Connect as the AT Expo officially opens to certified and associate members. Here, ATs will find the largest exhibition of sports medicine products and companies yet. NATA Corporate Sales and Exhibits Manager Chad Cranford said this is the largest sports medicine tradeshow in the world with 650 booths and 350 companies represented this year.
There is no shortage of events to explore during NATA 2019 – from live surgeries to peer-to-peer discussions.
Download the NATA Events app, if you haven't already, to curate your own schedule, get NATA convention navigation instructions and learn more about the events and speakers.