August 13, 2019 by
marketing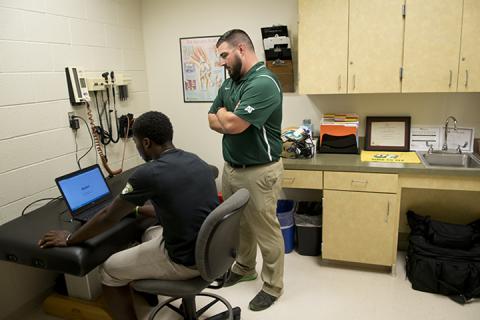 By Kim Diggs
Over the years, schools have taken more interest in proper post-concussion procedures, ensuring return-to-sport protocol is implemented. In addition, a key component to the recovery and adjustment of student athletes is the development of return-to-learn policies.
It is up to the athletic trainer to advocate for student athletes who have recently suffered a concussion to guarantee they are able to safely recover without being rushed to return to their normal schedules.
Team Movement for Life Director of Sports Medicine/Concussion Program Director Stacey Ritter, MS, ATC, ITAT, spoke with NATA Now about ways to address physicians, teachers and medical staff who push back on return-to-learn policy implementation.
Addressing Physicians
A key step is confirming with the student athlete's physician that they intend to introduce a return-to-learn plan with the parents if the student athlete is a minor. Getting parents invested in the recovery process cuts down on the potential of the athlete being sent back to school too soon. It also makes the parents aware that they should be monitoring their child's workload and watching for worsening symptoms during cognitive activities.
If the physician is unfamiliar with the concept, educate him or her on the ins and outs of a return-to-learn plan.
"From the perspective of owning your impact, seize the teaching moment," Ritter said. "Athletic trainers can provide the physician with a checklist of possible adjustments to the school day. They appreciate having a simple tool that can, then, be taken back to the school health team and teachers. This keeps the process as simple as possible."
Addressing Teachers
In some cases, teachers are apprehensive about complying because they don't know how to seamlessly implement return-to-learn practices while balancing their other duties.
"In my experience, the hesitation is coming from teachers," Ritter said. "Many are not aware that there are simple adjustments to the student's day that do not require complicated or formal academic modifications. When our ATs have given specific suggestions, they typically comply."
One misconception is that the work assigned will need to be altered, which is not necessarily the case, Ritter said.
"One way that we found successful was to be invited to department meetings so we can explain in more detail that it's an important part of healing and it doesn't always require a formal alteration to academic load," Ritter said.
Addressing the Health Care Team
Forging a relationship with the health care team on campus helps with getting critical support in return-to-learn plan implementation.
Ritter said many secondary schools hold health care team meetings regularly. Presenting content to and dispelling misinformation with the counselor, psychologist, health tech and/or nurses helps foster a collaborative atmosphere during a student's healing process.
At the collegiate level, building relationships within the guidance counseling office, student support services and student health center is crucial in instances when the necessity of a treatment or protocol is being questioned.
"Once the student health center or student services writes a note to the professor, it's a done deal," Ritter said. "The instructors can't deny the student from receiving those adjustments. Having documentation from these campus resources can make those conversations more streamlined."
Addressing Noncompliance
In the event that no one is willing to comply, and every option has been examined, Ritter suggests reaching out to the parents directly and partnering with them to address the concern with your school's administration.
"I don't like to go over people's heads," Ritter said. "I prefer to work with those people who are reluctant and solve the issue for them. If they don't know why this is necessary, I'll provide evidence. I'm going to work with those stakeholders and hold their hands through the process until they are willing to comply."
Ritter suggests referring the student to a physician who is familiar with graduated return-to-learn recommendations and/or having that physician write a letter to school stakeholders explaining its importance to the healing process and asking for support in its implementation.