August 31, 2022 by
Lydia Hicks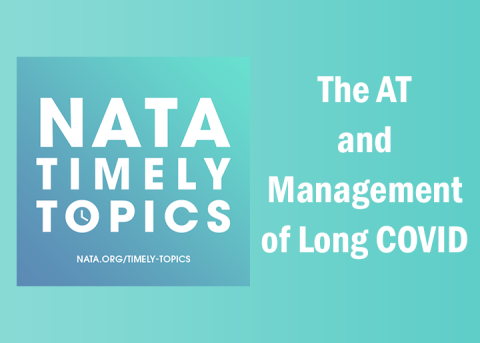 The next NATA Timely Topics Series event, "The AT and Management of Long COVID," at 1 p.m. CDT Sept. 2, is an opportunity to ask the right questions, said former NATA Intercollegiate Council for Sports Medicine Chair and Current National Collegiate Athletic Association COVID Task Force Member Murphy Grant, LAT, ATC, NASM-PES, who will moderate the discussion.
"What is it? Who is likely to get long COVID? What are the risk factors? These are things that the athletic trainers may not know and that conversation could continue to grow to provide that information," Grant said.
According to the Centers for Disease Control and Prevention, post-COVID conditions (or long COVID) "are a wide range of new, returning, or ongoing health problems that people experience after first being infected with the virus that causes COVID-19."
The event will feature five panelists – COVID-19 thought leaders Hayley Root, PhD, MPH, ATC, Robby Sikka, MD, ATs Care Commission Rep. Tanya Marquez, MS, ATC, Published Journal of Athletic Training Researcher Dr. Kathryn Calpino, DPT, PT, ATC, and US National Men's Soccer Head AT Ron Shinault, ATC – who will help athletic trainers prepare for the new season in light of this newfound knowledge.
The event will offer ATs the opportunity to connect with these thought leaders and published researchers to glean tools and ideas for managing long COVID within themselves and among their patients, as they return to fall activities. ATs will also be provided with a library of comprehensive links to help navigate quick access to quality resources.
Grant said that tackling long COVID is important to help ATs and their patients manage this unfamiliar, yet career-impacting, health condition.
"When you have these high-level athletes who are really fit and really strong, who two weeks prior were playing at their highest level and three or four weeks later, they can barely spend 20 minutes on a bicycle, that is very concerning from an athletic trainer standpoint on how to care for this individual," he said.
With the sports season commencing, accompanied with a high demand placed on professional and collegiate athletes, there is an increased pressure on ATs to contribute to their athletes' performance from return-to-play and return-to-activity perspectives, Grant said.
Root, a published researcher and co-author of the article, "Collegiate Athletic Trainers' Experiences Implementing Return to Sports Policies and Procedures During COVID-19: A Qualitative Research Study," will present on return-to-play policies. She will discuss successful policy features, including creation and implementation, that made return to play easier on clinicians during the early development of COVID-19. She will also unveil COVID-19 policy planning and execution barriers to avoid while applying the COVID-19 policy practices to long COVID policies.
"I think that it will be a good discussion," she said. "[Long COVID] is a condition that we don't know much about, compared to what we are used to, so it will be interesting to hear everyone's perspective about the best way to move forward."
Grant said that while the event focuses on the collegiate and secondary school settings, the discussion is also applicable to other professional settings.
"A lot of the secondary school athletic trainers work in the hospital setting and then they cover high schools in the afternoon, so [this discussion] could provide a lot for many different settings and it could be very helpful," he said.                                                                                                                     
The event will not only equip ATs to assist their sports medicine patients in dealing with post COVID conditions, it will also provide insight into how ATs can manage long COVID in their own lives.
Marquez, an AT who has experienced long COVID first-hand, will share her story with the condition. She said her first bout with COVID-19 resulted in long COVID, which not only exacerbated her thyroid disease, but also impacted her athletic training career.
"It's been a year, and I have had to change my medication every six weeks because my thyroid numbers are still not getting into that settling point," she said. "Fast forward to July, unfortunately, I am vaccinated, I am boosted … but I got COVID again."
Marquez said she experienced what she called a "brain fog" when she was first diagnosed with COVID-19, which made multitasking challenging for her. With her second COVID illness, her symptoms worsened to the point that multitasking has become even more difficult.
"Now try to function in a crowded athletic training facility, where you're trying to manage patients … you've got multiple balls in the air at once," she said. "COVID actually forced me out of practice, even prior to my own personal diagnosis, in terms of being with patients on a daily basis. I'm now on the education side of things, where I can set the pace of my work."
Whether an AT is personally experiencing long COVID, working with a patient who is or looking to get equipped with return-to-play long COVID procedures this season, this NATA Timely Topics event is the chance to have questions answered for the best possible care.
Registration is free for NATA members and $45 per event for nonmembers. Register now to attend this opportunity and prepare to tackle post-COVID conditions with guidance from thought leaders.
View more topics lined up in the series on the NATA Timely Topics Series webpage.