May 17, 2023 by
Lydia Hicks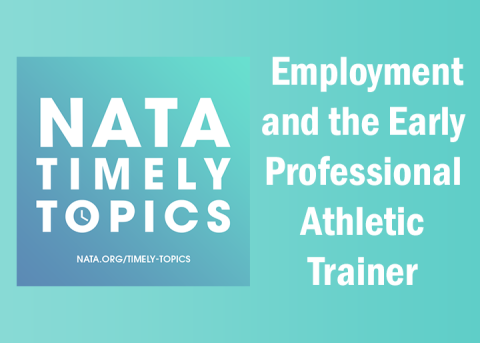 Early professional athletic training employment has been ailed with issues such as decreased compensation, expanded work expectations, challenges with work-life balance and other factors affecting employee recruitment and retention, said NATA Early Professionals' Committee Chair Emily Mulkey, MS, LAT, ATC.
Hence, NATA Time Topics continues with "The State of Athletic Training: Employment and the Early Professional Athletic Trainer" at noon CDT May 31.
Moderated by Mulkey, the event features NATA Vice President and District Seven Director David Gallegos, MA, ATC, Cert. MDT; NATA Early Professionals' Committee District Seven Rep. Hannah Duszynski, MS, LAT, ATC; NATA Early Professionals' Committee District Eight Rep. Sanam Razazadeh, MS, ATC; and Athletico Physical Therapy Director of Athletic Training Services Payten Gerjerts, MS, ATC, as speakers.
Following the transition to a master's level education program, many ATs expressed concerns about a perceived shortage of jobs in the profession. However, a statement released by NATA in March, and in accordance with data analysis from the Board of Certification for the Athletic Trainer (BOC), reports an upward shift in the direction of employment opportunities.
Mulkey said this revelation empowers ATs to not only take advantage of this plethora of job opportunities, but also elevate the profession for generations to come.
"Our goal with this [Timely Topics event] is to talk about the importance of how the job market has significantly changed," she said. "It used to be that 16 people were applying for one job and that was it, and you really hoped that you got a job. Now, we're at a time when people are able to apply to multiple jobs and pick what they think is actually going to be best for them.
"And with the [NATA Salary Survey] showing that we don't have an athletic training shortage, but rather, we have actually more jobs and a wider variety of settings available … truly, the market is showing a greater need for athletic trainers, which is absolutely phenomenal."
With this increase, early career professionals can be more intentional about the positions they choose, making sure their jobs balance well with their lives. This event provides avenues of how to do that, Mulkey said.
The May 31 event is also open to ATs from all settings and career levels. Attendees will get to connect with leaders from diverse backgrounds in the profession on how to take advantage of the vast career opportunities in the AT job market.
"We are going to be talking initially, but at the end of the day, our goal is not to do as much talking, but actually a lot of listening and conversing," Mulkey said.
Timely Topics registration is free for NATA members and $45 per event for nonmembers. Register now to attend this opportunity. View more Timely Topics lined up on the NATA Timely Topics Series webpage.
Prepare to discuss with the speakers by learning more about their professional and AT leadership backgrounds below.

Hannah Duszynski, MS, LAT, ATC
NATA Early Professionals' Committee District Seven Representative
Associate Athletic Trainer, Xavier College Prep High School in Phoenix, Arizona
Hannah Duszynski, MS, LAT, ATC, attended Ball State University and earned her bachelor's degree in athletic training in 2019. She continued on to pursue a post-professional master's degree in athletic training from A.T. Still University and graduated in 2021. Since 2019, Duszynski has worked in the secondary school setting as a full-time athletic trainer. In 2022, she earned a graduate certificate from A.T. Still University in sports neurology and concussions. With her background, her primary interest within the secondary school setting and research is to work to improve the quality of concussion care for student athletes by helping them return to the classroom and sports safely. Additionally, she has served as the inaugural District Seven representative for the NATA Early Professionals' Committee since 2021. In this role, she has helped to develop programs and advocate for early professionals in navigating their early careers. One of her roles on the committee has been to plan and develop the educational sessions for the NATA Clinical Symposia & AT Expo. Each year, the session's goal is to provide early professionals an opportunity to learn ways to improve their patient care within the professional environment.
David Gallegos, MA, ATC, Cert. MDT
NATA Vice President and District Seven Director
Deputy Chief Executive Officer, Southwest Sport & Spine Center, Inc.
David Gallegos, MA, ATC, Cert. MDT, is the Deputy CEO of Southwest Sport & Spine Center, Inc., a privately owned corporation with subsidiaries focusing on outpatient rehabilitation, diagnostic imaging, breathing science and occupational and industrial health care. He has experience in the NFL, minor league baseball and soccer, secondary school and clinical settings. He is one of 10 ATs credentialed in mechanical diagnosis and therapy in the country and the only AT certified as an administrator by the American Physical Therapy Association Private Practice Section. He has been active in the athletic training profession at the local, state, regional and national levels and is currently the NATA vice president and District Seven director representing Arizona, Colorado, New Mexico, Utah and Wyoming. His nonprofit platform, JustChange, focuses on identifying personal values and how they intersect with career choices. Personally, his focus is on transformational change in women's athletics, health care and education. In 2016, he cofounded Innovate AT, a business and educational platform to help improve the value of the individual athletic trainer.
Payten Gerjerts, MS, ATC
Director of Athletic Training Services, Athletico Physical Therapy
Payten Gerjerts, MS, ATC, earned her bachelor's degree in athletic training from the University of Northern Iowa. She then moved to Chicago to complete her master's degree in applied exercise physiology from the University of Illinois Chicago. While in graduate school, she started working for Athletico Physical Therapy as a PRN employee. Once finished with schooling, Gerjerts moved from a PRN to a full-time employee with Athletico, servicing a large private high school in the northern suburbs of Chicago. In 2007, she transitioned from field to management and has held several different roles in the athletic training department. She currently serves as a director, overseeing more than 200 ATs in Chicago, Wisconsin, Iowa, Missouri and Michigan.
Sanam Razazadeh, MS, ATC
NATA Early Professionals' Committee District Eight Representative
Assistant Athletic Trainer, Stanford University
Sanam Rezazadeh, MS, ATC, joined the Stanford University athletic training staff in July 2017 as an advanced post-graduate athletic trainer. She transitioned into her current role as an assistant athletic trainer providing care for the wrestling and men's water polo programs in 2019. In addition to her sport coverage responsibilities, her main administrative task is overseeing inventory and purchasing for the entire sports medicine department. She holds certifications in competencies including dry needling and blood flow restriction. She is interested in research, data collection and how to interpret the information and utilize it to help her student athletes. Rezazadeh currently serves as chair of the Far West Athletic Trainers' Association Early Professionals Committee and represents District Eight on the NATA Early Professionals' Committee. She also serves on the planning committee for the Pac-12 Student Athlete Health Conference, and is involved in creating an agenda, securing speakers and presentations for multiple disciplines.