June 13, 2022 by
Lydia Hicks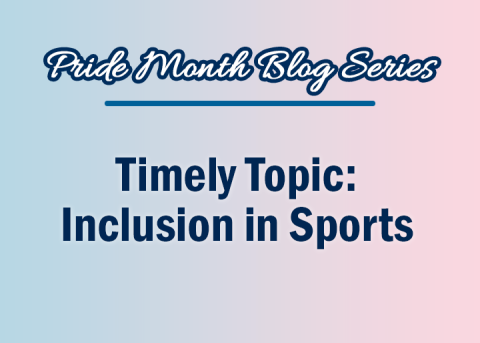 To celebrate Pride Month, the NATA LGBTQ+ Advisory Committee, in conjunction with Gatorade Performance Partner, will host an NATA Timely Topics Series event titled, "The AT and Transgender and Nonbinary Inclusion in Sports," from 2 to 3:30 p.m. CDT June 16.
Speakers include Chris Mosier, founder of Transathlete.com, activist, two-time National Champion and member and Team USA multisport athlete, and Anne Lieberman, director of policy and programs at Athlete Ally and three-time national Muay Thai champion fighter and coach. The event aims to help attendees:
 
Understand language around transgender identity and experience
Deconstruct myths around trans athletes
Gain tools to communicate why trans inclusion is important to make sure sport remains safe and inclusive for all
 
"We hope that folks will attend this training on transgender and nonbinay inclusion in sport to deepen their allyship and engagement with the transgender and nonbinary community," Lieberman said. "As athletic trainers, you work with a diverse range of athletes and have a unique opportunity to create an inclusive and welcoming space for trans and nonbinary athletes at all levels of sport. Chris and I want to create a safe environment for you to learn and grow during Pride Month, and we're excited to lead a conversation that we hope will be the first of many."
LGBTQ+ Advisory Committee members Amanda Tritsch, PhD, LAT, ATC, associate professor and athletic training program director at the University of South Florida, and Kirk Armstrong, EdD, LAT, ATC, professor and academic unit head at the James Madison University Department of Health Professions, will moderate the discussion.
Armstrong said the Timely Topic event would not only provide foundational knowledge to NATA members and nonmembers, but also foster ATs' cultural competence as it would help them comprehend the unique health care needs of this population.
He added that, considering the misinformation that exists in the health care system, the event is designed to help sports medicine practitioners provide accurate content they can use when serving this patient population.
"I hope ATs can be better allies and a resource in helping transgender patients get optimal care as they try to navigate the health care system," he said.
Tritsch also shared that this Timely Topic will be "an unparalleled opportunity to ask experts questions regarding the transgender patient population they may not otherwise have."
She said transgender and nonbinary patients face challenges that she hopes will be tackled in the discussion.
"Honestly, there are a lot of legal impediments in various states across the country that are limiting access for trans patients to participate in sports," she said. "So I am hoping that we are able to have an honest straightforward conversation about the impact of what that means for our patients and for trans folks and nonbinary folks across the board."
Registration is free for NATA members and $45 per event for nonmembers. Register now to attend this opportunity to develop cultural competence and inclusion skills with the help of expert thought leaders.