December 5, 2022 by
Lydia Hicks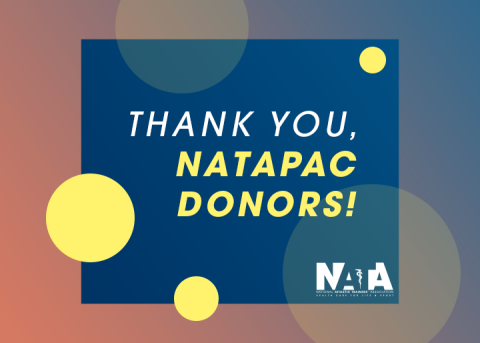 Since 2005, the NATA Political Action Committee (NATAPAC) has been the voice of the athletic training profession, seeking better working conditions, fair access and the right to practice for all athletic trainers across America.
Over the past year, NATAPAC garnered more than $52,000 from 1,132 contributors between Oct. 1, 2021 and Sept. 31, 2022. View a complete list of the 2021-22 contributing members.
NATAPAC enables members to support elected officials or candidates who promote policy advancing the athletic training profession. Through NATAPAC, members are able to help shape the political climate and educate federal legislators regarding the significant contributions athletic trainers make as health care providers across our nation.
Thanks to all our contributors! We are tremendously grateful for your support in advocating for the profession!
 
Renew Your NATA Membership
Your membership with NATA unlocks access to a variety of member bene­fits in professional growth, advocacy, support and connection, with several benefi­ts extending beyond just one of these categories. Visit the NATA Member Benefits webpage to learn more about what comes with being an NATA member and renew your membership today. The deadline to renew is Dec. 31.
Don't let finances get in the way of a membership – if you are experiencing a financial hardship, contact Member Services at 972.532.8897 or membership@nata.org to see how we can help.