October 24, 2022 by
Lydia Hicks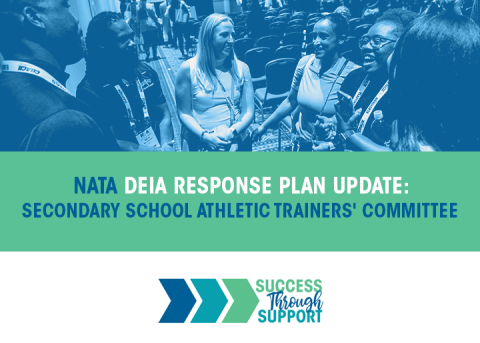 As part of Phase Six of NATA's Diversity, Equity, Inclusion and Access (DEIA) Response Plan, each NATA committee, commission and council was tasked with developing three to five actionable items that support one or more of the six NATA DEIA Commitments.
In this blog post, which is part of an ongoing series highlighting these efforts, NATA Secondary School Athletic Trainers' Committee Chair Jennifer Rheeling, MS, ATC, outlines the SSATC's actionable items, what the committee hopes to achieve and how members can get involved.
 
What are your committee's three to five DEIA actionable items, and why were they selected?
1. Create and develop a "shadowing" program for a member of each district to shadow meetings and audit work groups. The goal is to have members from each district who represent an underserved population, whether it be ethnic or religious minority or LBGTQIA+. We chose this goal to help engage members who are in these specific populations to help give feedback and insight on topics and/or issues that we, on the committee, do not generally see daily. We want to be able to reach all our athletic trainers and patients in secondary schools in every way possible.
2. As part of the off-boarding process, the SSATC members who are rolling off within six months will promote their position to state and district associations as well as the NATA Ethnic Diversity Advisory Committee and the NATA LGBTQ+ Advisory Committee. We will be working to promote the district SSATC chair and committee member openings throughout our platforms to ensure all members of all backgrounds are aware and encouraged to apply.
3. Work with the NATA Board of Directors to find ways to commit permanently to inclusive representation on the SSATC. Long-term, we would like to add representative positions when they are sustainable. Short-term, we will partner with EDAC and the LGBTQ+ Advisory Committee to ensure we are being thoughtful about inclusion, equity, and supporting individuals, ATs and patients that have traditionally been underserved and underrepresented.
4. We want to strengthen our EDAC-LGBTQ+ committee partnerships. As a committee, we prioritize participating in EDAC service projects during the NATA Clinical Symposia & AT Expo, and prioritize attendance at the EDAC and LGBTQ+ town halls and educational sessions offered by EDAC and the LGBTQ+ Advisory Committee. We will also collaborate for the Secondary School Sessions and NATA convention sessions hosted by the SSATC to reflect medical issues that affect underserved populations, how ATs can increase DEIA support and be meaningful allies, support ATs who are identified under the DEIA umbrella and focus on identifying DEIA speakers. We truly want to work with and show our support to all ATs and their student athletes.
Tell us about the development process that led your committee to these actionable items.
We started with reviewing NATA's DEIA commitments and how we could relate them to ATs in the secondary school setting. We brainstormed on the ideas stated above and we broke down each item to develop them into actionable and attainable items for our committee to complete and follow through on.
How will the actionable items you've outlined impact NATA's members?
We hope to engage members who've been on the cusp about volunteering to step out of their comfort zone and engage with us on issues and new ideas, and ensure the SSATC is being inclusive and responsive. We also hope ATs in the secondary school setting will see this and know that the SSATC is always working for our fellow ATs as NATA members.
How do you hope your committee's actionable items will contribute to NATA's overall efforts to improve DEIA?
I believe our committee's actions reflect all of the NATA commitments. We are cultivating a new environment to add new members to shadow, work to provide specific programming that is inclusive, ensure we are adding in DEIA terminology for projects and examining previous projects to update. We also hope to add new members of diverse backgrounds, who can keep us accountable on projects, and show our support to all ATs of all background and their student athletes.
Where are you in completing your three to five actionable items?
We have begun implementing goal No. 1 as listed above and each district chair is seeking out assistance from their district director.
No. 2 will begin six months from the next member who rolls off in June 2023. This will be an ongoing item.
No. 3 is in the development phase and the committee is engaged in discussions with the NATA Board of Directors to develop a path forward.
No. 4 is currently underway with the development of our Secondary School Sessions and educational programming for next year's symposium. Representatives from the SSATC attended the EDAC service project and the EDAC and LGBTQ+ Advisory Committee town halls during the 73rd NATA Clinical Symposia & AT Expo in Philadelphia, as well as educational sessions highlighted by those committees. This will be an on-going commitment.
How can your fellow NATA members help bring these actionable items to life?
They can help by taking the initiative to apply for the volunteer positions or by encouraging their fellow ATs who would be good candidates to apply. They can also help by joining us as allies at events sponsored by EDAC and the LGBTQ+ Advisory Committee. All of us can learn to be allies and safe space providers.
Where can members learn more about your committee's DEIA efforts?
Members can reach out to me or any district chair. We can be found in the Connect section of the NATA Secondary School Professional Interest webpage or any district's website. We can also be found on the Secondary School Athletic Trainers' page on Gather.