November 16, 2022 by
Lydia Hicks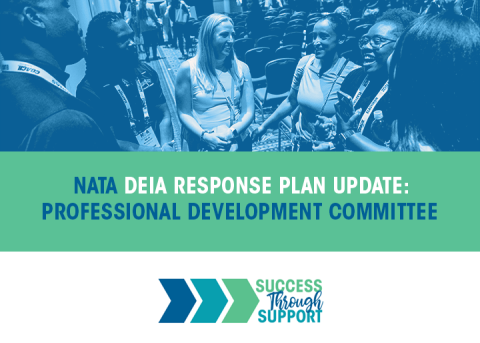 As part of Phase Six of NATA's Diversity, Equity, Inclusion and Access (DEIA) Response Plan, each NATA committee, commission and council was tasked with developing three to five actionable items that support one or more of the six NATA DEIA Commitments.
In this blog post, which is part of an ongoing series highlighting these efforts, NATA Professional Development Committee Chair Melissa Montgomery, PhD, ATC, outlines PDC's actionable items, what the committee hopes to achieve and how members can get involved.
 
What are your committee's three to five DEIA actionable items, and why were they selected?
Create a series of programming in the form of short, easily digestible videos to release online. We are currently developing:

Social determinants of health
Health equity and health disparities
 

Create a DEIA toolkit to distribute to speakers and subject matter experts to make them aware of or remind them to use inclusive language, images, etc. The toolkit will also educate them on ways to promote inclusion and representation in their presentations. Our committee wanted to do more than just tell people they should be more inclusive in their presentations. I think folks generally recognize that they could do better in these areas, but just don't know where to find resources. This toolkit is meant to be an easy reference for those resources.
 
Publicly disseminate the process and procedures for selecting PDC committee members. This was selected to promote inclusive recruiting practices for our committee as well as increase our diversity. Our committee is already district-based, but we would like to have representation from all AT settings.
 
Tell us about the development process that led your committee to these actionable items.
We met as a whole committee for discussion and then formed a subcommittee to further develop the projects that would come out of our commitments.
We collaborated with the NATA Convention Program Committee on No. 2 since we have so much crossover in what we do – procuring speakers and subject matter experts.
How will the actionable items you've outlined impact NATA's members?
The content that we are producing is specifically made for athletic trainers, which will increase the relevance. We have also tried to make the content as easy to use as possible since time is a valuable commodity.
How do you hope your committee's action items will contribute to NATA's overall efforts to improve DEIA?
No. 3 was a big one for us because there has always been discussion and concerns about how people are selected for committees. The perception is that if you don't come from certain places/schools, you can't get on committees because the selection is based on personal recommendations or whom you know. By making the process of determining committee membership more transparent for all NATA members, there is opportunity for more diversity in our committees and, ultimately, leadership.
Where are you in completing your three to five actionable items?
For No. 1, we are working with the subject matter experts to produce the content. No. 2 is done and ready for release by the NATA Knowledge Initiatives team for use in 2023. The NATA Board of Directors took on the No. 3 project so that the process for selecting committee members is similar across the organization. (Learn more about the new streamlined volunteer process.)
How can your fellow NATA members help bring these actionable items to life? 
Members can engage with the video content that we will release, and hopefully incorporate, into everyday practice. Also, we hope that with the more transparent and streamlined volunteer process, more members from traditionally underrepresented groups and practice settings will be encouraged to volunteer for committees.
Where can members learn more about your committee's DEIA efforts?
We are going to start leveraging social media to let members know what we're up to and to announce release of new content.

Renew Your NATA Membership
Your membership with NATA unlocks access to a variety of member bene­fits in professional growth, advocacy, support and connection, with several benefi­ts extending beyond just one of these categories. Visit the NATA Member Benefits webpage to learn more about what comes with being an NATA member and renew your membership today. The deadline to renew is Dec. 31.
Don't let finances get in the way of a membership – if you are experiencing a financial hardship, contact Member Services at 972.532.8897 or membership@nata.org to see how we can help.