September 12, 2022 by
Lydia Hicks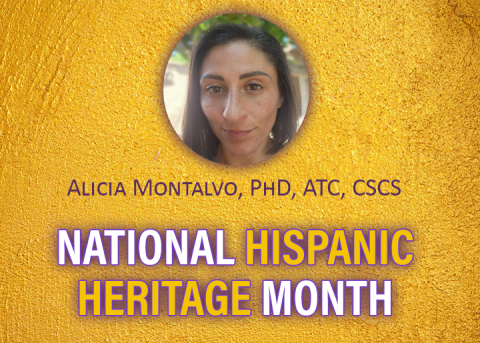 In honor of National Hispanic Heritage Month, the NATA Now blog is highlighting some of our Hispanic/Latinx athletic training leaders at the state, district and national levels Sept. 15-Oct. 15.

For Alicia Montalvo, PhD, MPH, ATC, her passion for athletic training began with her love for exercise. This enthusiasm grew into her dedicated work in personal training for many years, fueling her motivation to help her clients achieve their fitness goals.
Montalvo's desire to serve personal training clients evolved into a drive to help injured athletes.
"I thought I might become a strength and conditioning coach, but a career inventory led me to athletic training," she said. "Naïvely, I thought, 'Who is more motivated to return to play than an injured athlete?' So, here I am."
Montalvo's passion did not stop there. Since becoming an athletic trainer, she has devoted herself to the profession as movement sciences professor and liaison to Sun Devil Athletics in the College of Health Solutions at Arizona State University. She has also contributed to the profession through several committee roles, including NATA Athletic Training Educator's Conference subcommittee member, NATA Career Advancement Committee District Seven representative and former NATA liaison to the American Medical Society for Sports Medicine.
Read on to learn more about her leadership, service and volunteer efforts to advance the profession.

What was your first volunteer role within the athletic training profession and why did you get involved?
I started volunteering as a moderator for advanced track seminars at NATA every year through a graduate school connection – shout out to S. John Miller, PhD, PT, ATC! – in 2013. I had such great experiences and got to meet amazing women in the field, including Jenny McConnell, MS, and Sandy Sahrmann, PhD, PT. I wanted to get involved because I learned from Jenna Doherty-Restrepo, PhD, LAT, ATC, during my time as a graduate student at Florida International University, that it was important to give back to the profession. I watched her take every opportunity to get involved and that has really inspired me over the years.
Tell us about your current role as District Seven representative of CAC and what you hope to accomplish in this role.
I'm currently working with CAC to help mid-career athletic trainers stay in the profession. I hope to do what I can to make sure my peers have the tools they need to get a raise, get a promotion, improve work-life balance or do whatever they need to stay engaged. I think the pandemic has at least partially resulted in many athletic trainers leaving the profession, but the fact is that there is no perfect profession. Employees currently have unbelievable negotiating power. I want to work to empower mid-career athletic trainers to become their own advocates and at least attempt to leverage their positions before leaving the profession. I also want to work to address issues related to diversity, equity and inclusion in athletic training. In general, I want to be a part of improving working conditions for mid-career athletic trainers.
What is your favorite part about giving back to the profession?
My favorite part about giving back to the profession is that I get the ability to foster a more diverse and inclusive environment. In the past, I have found that I may be the only woman and/or person of color at the table. I love that I get to use my position to elevate important issues about health equity and justice, and to amplify diverse voices. I find opportunities to encourage the change I want to see, even if only on a small scale.
Why is representation important to leadership and how does it impact the profession?
Representation is important in every organization. People in the early stages of their careers need to be able to look up and see themselves reflected in leadership. This encourages engagement from diverse individuals within the ranks. If you never see yourself when you look up the organizational ladder, how will you know what's possible for you to achieve? Some people might be motivated to be the first, but others may disengage.
Why is it important for ATs to get involved in leadership and service?
We all need to contribute to running the ship. Participating in service gives you purpose and allows you to understand the system. If you don't like certain parts of the system, change can only come if you get involved and use your voice. Becoming a leader is important because it can inspire the next generation. Leaders need to walk, sometimes reluctantly, so the next generation can run.
What would you say to the next generation of athletic trainers about the importance of giving back? 
If you're not satisfied with how things are going, channel that energy into effecting change. For example, I've faced challenges in my career and I've turned those experiences into motivation to actualize change through participation. It's easy to give up. It's harder to get involved and do the work to make conditions better for the athletic trainers who will inevitably come after you.