June 22, 2022 by
Lydia Hicks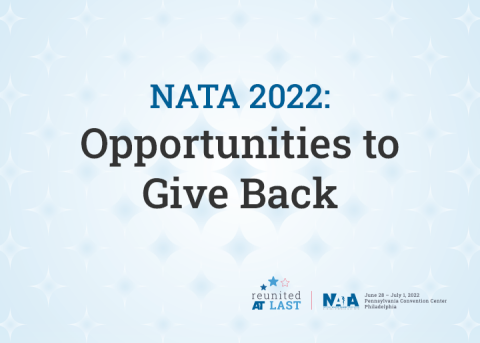 At the 73rd NATA Clinical Symposia & AT Expo, attendees will get to participate in one or more of the philanthropic initiatives taking place virtually and on-site. While the NATA Ethnic Diversity Advisory Committee (EDAC) is hosting its annual community service event June 28, introducing the profession to school-age children, the National Basketball Athletic Trainers' Association Gary Vitti Virtual Blood Drive and Be The Match Virtual Bone Marrow Drive will run from June 28 to Oct. 31.
Find out more about these exciting programs and learn how to contribute.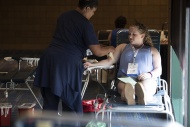 NBATA GARY VITTI VIRTUAL BLOOD DRIVE
The NBATA Gary Vitti Blood Drive has empowered athletic trainers to help save lives beyond the sidelines for years. This year, beginning June 28 during the 73rd NATA Clinical Symposia & AT Expo and running through Oct. 31, the blood drive will occur virtually so that NATA members can impact lives wherever they are and participate for a longer period of time.
To contribute, schedule an appointment to donate with the American Red Cross anytime between June 28 and Oct. 31. Visit the NATA page on the American Red Cross website to schedule your appointment today.  
Donors are encouraged to post a selfie and use the hashtag #NATA2022 to inform fellow NATA members about their donation.
"Donors are especially needed now to address a decline in blood donations in late spring which could begin to impact the blood supply as summer starts," said Lisa Leventhal, NATA meetings management associate. 
 
BE THE MATCH VIRTUAL BONE MARROW DONOR DRIVE
Every year, thousands of people are diagnosed with serious blood cancers. ATs can help be the cure with a lifesaving bone marrow donation. Beginning June 28 during the NATA convention and available through Oct. 31, the Be The Match Bone Marrow Donor Drive will occur virtually.
Be The Match, operated by the National Marrow Donor Program, facilitated its first marrow transplant in 1987 and manages the most diverse marrow registry in the world. More than 30 years later, the organization has helped save thousands of lives.
Join many fellow NATA members and AT peers to take the first step to becoming someone's cure today. If members are between the ages of 18 and 40, they can add their names to the national bone marrow registry by texting "NATA" to 61474 or visiting the NATA page on the Be The Match website, where they can use the code "NATA." After completing the online form, they will receive their swabs in the mail. Return the swab by Oct. 31 to help give someone a new lease on life.
There will also be kits available at the EDAC Town Hall & Social, taking place 4 p.m. June 29 at the Pennsylvania Convention Center Room 115A, said EDAC's District Nine Chair Rob Dicks Sr., MA, LAT, ATC.
"[Attendees] can register in person during the town hall meeting," Dicks said. "They can also share registry information to patrons not attending in person via QR code."

EDAC COMMUNITY SERVICE EVENT
The 2022 EDAC Service Day is from 10 a.m. to 12 p.m. June 28 at the Lucien E. Blackwell Community Center, 761 N. 47th St., Philadelphia, PA 19131.
Since the early 2000s, EDAC has hosted this on-site community outreach annually in conjunction with the NATA convention. This year, the committee partnered with Educators 4 Education and the Lucien E. Blackwell Community Center.
EDAC's District Four Rep. Samar Long, EdD, LAT, ATC, said the service day provides an avenue for athletic trainers to give back to the city that hosts the NATA convention each year. EDAC offers this opportunity through a charitable event, such as this, to support and inspire local youth, specifically those in underserved areas.
"Our goal each year is to introduce the profession and teach the youth participants some beneficial prevention and recognition skills they can utilize for themselves and others," she said. "Previous events have included interactive activities that educate participants on the value of wellness, exercise and sports safety."
This year, the event will entail small groups covering CPR compressions, hydration, splinting, taping, balance exercises and pulse assessment, Long said.
By showcasing athletic training as a potential profession to young students, the event opens up another health care career option to them.
"As part of EDAC's mission to grow diversity within the field, events like Service Day allow us to build a network with local nonprofit groups that reach marginalized communities and create opportunities for recruiting the next generation of diverse health care providers," Long said. 
Although registration to volunteer at the event is closed for this year, members can visit the EDAC page on the NATA website or check the EDAC Instagram, Twitter and Facebook pages for opportunities to participate next year.

VOLUNTEER AT NATA 2022
"Help us make NATA 2022 greAT," said Christi Gates-Hale, NATA meetings manager. "Volunteering at convention is a great way to get involved and save money on your convention registration fee. All volunteers who work 10 hours or more will be reimbursed a portion of their registration fees."
For more information about giving back during NATA 2022, visit the convention volunteer opportunities page on the NATA website.