July 17, 2023 by
Lydia Hicks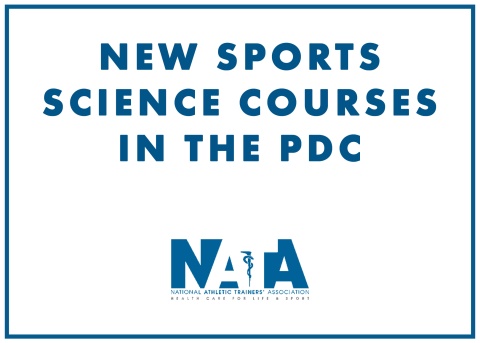 Four new sports science courses are now available in the NATA Professional Development Center (PDC) with two more planned to be released soon.
"This module series will introduce ATs to the basics of sports science and provide a foundation, through concrete examples, for which ATs can adapt sport science theories and principles into their own practice," said Adam Annaccone, EdD, ATC, CES, who introduces Module 1 as the co-chair of the NATA Sports Science and Data Analytics Task Force.
Annaccone, alongside task force co-chair and 2023 NATA Hall of Fame inductee Mark Coberley, MS, LAT, ATC, presented on the task force's work and introduced the sports science module series during a presentation in the Level Up! Theater at the 74th NATA Clinical Symposia & AT Expo.
"There is a great thirst for information and understanding in this area," Coberley said. "In more and more cases, [athletic trainers'] employment is being impacted by not having an understanding of this important area that is being incorporated into injury mitigation and rehab/return to play decision-making."
Coordinated by the task force, in conjunction with the NATA Knowledge Initiatives Department, the courses are:
Module 1: "Athletic Training and Sports Science: Building a Successful Organizational Model," created to help fill the knowledge gap regarding different practice models in professional sports and provide recommendations on how ATs can lead successful organizational change.
Module 2: To be released soon.
Module 3: To be released soon.
Module 4: "Wearables in Sport: Legal and Ethical Considerations To Data Capture and Use," developed to present athletic trainers with some of the legal and ethical considerations regarding the use of non-HIPAA regulated biometric data.
Module 5: "Utilization/Evaluation of Athlete Management Systems," which will familiarize athletic trainers with current practices in sport science, including terminology, scope of practice and certifications, education, product use and implementation.
Module 6: "Training Load Management and Performance Design for In-Season, Out of Season and Return to Play," aimed at defining the term "sports science" from NATA's perspective as well as identifying various terminology associated with training load management and program design; explaining how various parts of the performance team overlap and interact when implementing training loads and program design; recognizing some of the strategies used to address load management; and demonstrating the basic knowledge on how to apply the principles of using sport science in load management through case study examples.
Module 1 is a prerequisite for all other modules in the series. After completing Module 1, the rest may be completed in any order.
Annaccone said sports science education is important for athletic trainers as it helps to improve their data-informed clinical practice.
"For years, decisions such as return to participation/work or discharge from rehabilitation have relied solely on subjective data," he said. "With the rate at which technology is advancing, ATs now have the ability to leverage technology and science to ensure our decisions are grounded in objective measures as well."
NATA Sports Science and Data Analytics Task Force member Aaron Nelson, MS, ATC, NASM-CES, said the athletic training organizational model in sports has experienced many changes over the past decades. Hence, the need for the modules.
"I hope [ATs] will be more proactive and dive deeper into this area," he said, adding that such education is pertinent as ATs may not only assume positions in sports science, but also "have a direct working relationship with others in this role."
Annaccone also said he hopes ATs will not only evaluate their practice as is related to the health and safety of patients, but also use sports science as a link to build multi-disciplinary partnership.
"Through collaboration and shared interests, ATs will find that other professionals are probably asking the same questions relating to health, wellness, recovery, performance and injury risk mitigation," he said.
For more information about these courses and to register, visit the PDC.