May 9, 2023 by
Lydia Hicks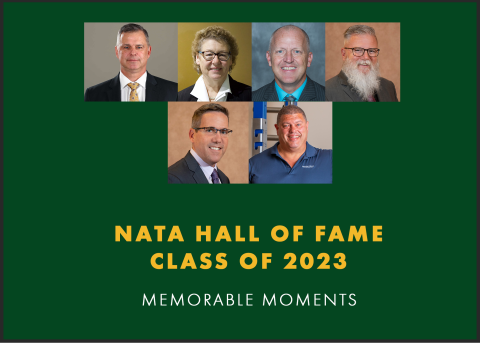 The NATA Hall of Fame is the pinnacle of recognition for members, honoring a select group of athletic trainers who have shaped the athletic training profession and exemplified what it means to live a life of service.
More than a ring, green jacket and plaque on the wall, the NATA Hall of Fame is an honor bestowed on those who have spent countless hours perfecting their skills, mentoring the next generation of ATs and imprinting a lasting impact on the athletic training profession.
The May NATA News featured the class of 2023, highlighting their careers and volunteer achievements, and delves into their journeys as leaders in the profession.
The class of 2023 will be honored and inducted into the NATA Hall of Fame during the 74th NATA Clinical Symposia & AT Expo in Indianapolis.
In this blog, the inductees share their most memorable moments as athletic trainers.

RICK BURKHOLDER, MS, ATC
Meeting with the NFL commissioner and getting him to agree to a scholarship for female athletic trainers in the NFL.
LORIN A. CARTWRIGHT, MS, ATC, CAA
When I was the head athletic trainer at Pioneer High School, a high school senior came into the athletic training facility. With him was his incoming younger brother. He told his brother, "This is where you come when you get injured playing sports. And this is the woman who is going to get you back from your injury. Lorin, this is my brother."
MARK COBERLEY, MS, LAT, ATC
I've been incredibly blessed to be a part of teams in the College World Series, NCAA basketball tournaments, football bowl games and various conference championships. All those teams, athletes and coaches were special in their own way.
Seeing former students and peers be successful at all levels from the NFL, NBA, NHL, major college sports, high schools and private practice is constantly rewarding, knowing you were able to play a small part in setting them up for success.
Professionally, serving on the NATA Board of Directors and the many initiatives we implemented during that time, and serving on the Big 12 Conference as medical aspects of sports chair and member, are some of the most rewarding things I have been fortunate to be a part of.
TONY FITZPATRICK, MA, LAT, ATC
As an AT, it has to be my very first football game for Boise High School in August 1988. I was their first full-time AT in the building (I also taught, too, still do!). Our first game was a road trip to north Idaho to Lewiston High School. On the third play from scrimmage, our marquee senior running back ran for 98 yards on third down and got tackled two yards shy of the goal line. It was my first call to the field as "The AT."
I got to the field and after the evaluation, I made the "call" that I believed my running back had a tibia fracture. We both felt the crepitus. It was my first call and I was nervous. There was no one to turn to or back me up. The call was mine. The officials and the EMS on the field were laughing at me, telling me that, "trainers worry about everything." I was getting a little bit fired up when my head football coach stepped in and said if his athletic trainer wanted to transport, we were transporting! He was very respected in the Idaho coaching community, so we transported. The young man did in fact have a fracture and required surgery once we got back to Boise.
It was years later that my football coach confided in me that he didn't think the young man had a fracture, but when it came back that he did, he knew, "Never to harbor any second guesses." He was my greatest advocate at Boise High my first years and we became close friends. When he passed away a few years back, that was one of the memories his wife and I shared a tear or two about.
My favorite memory as a volunteer for NATA was with the NATA Secondary School Athletic Trainers' Committee, during a committee meeting in New Orleans. After a great committee dinner, Mike Carroll, MEd, LAT, ATC, myself and Rachael Oats, who was the staff liaison to the SSATC at the time, were walking back to our hotel in the French Quarter. We passed Krystal Burgers and Rachael commented about never having them. Mike and I decided, even on a full belly, that we had to rectify that gastronomic omission. We treated Rachael to a bag of Krystals and she thought they were the greatest things ever! We chuckled about that meal years later, and even when Rachael knew that she wasn't going to be with us for much longer, that memory brought out a great big smile and some laughs.
TORY R. LINDLEY, MA, ATC
Memories, so many incredible memories, provided by athletic training. The 1988 Rose Bowl put me on my first airplane; Super Bowl XXVI gave me the chance to clutch the Vince Lombardi Trophy; 11 Northwestern University Bowl games provided 11 incredible family vacations; yet three defining memories are truly cherished.
I remember fondly the Saturday afternoon, days before starting as the head AT at Hamline University, that my wife, Beth, and I were on our hands and knees brush-scrubbing the floor of the athletic training facility and newly acquired office, formerly a janitor's closet. I had been given my chance to lead, my chance to succeed or fail, and you couldn't have removed the smile from my face.
Next, I think back adoringly to a decade stretch at Northwestern University when I was able to integrate work and life by sharing home game day sidelines with Jonah, then Evan and, finally, Genevieve. Each of their hydration technician stints provided us with shared experiences unmatched in love and mutual admiration.
Most recently, I remember with pride back to our record-setting 2019 NATA convention, sharing the profession's biggest stage with APTA President Sharon Dunn. It's an indelible memory that I was thrilled to share with 13 previous NATA presidents, most of whom said they "would never see the day!"
PAUL A. ULLUCCI JR., PhD, DPT, ATC
My most memorable moment in my career, besides getting the call that I was going to be inducted into the NATA Hall of Fame, was when I was told that they were going to name the District One Superfund after me. It was a humbling experience knowing that I had helped create the fund and that it would carry on long after I was gone, but now have my name attached to it.