May 23, 2023 by
Lydia Hicks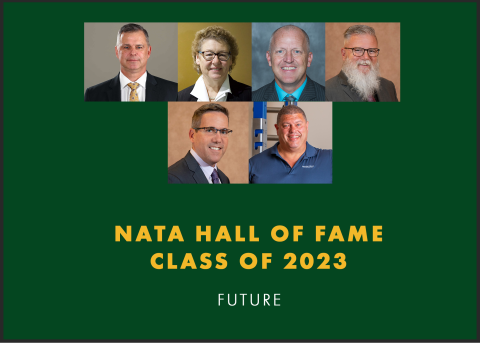 The NATA Hall of Fame is the pinnacle of recognition for members, honoring a select group of athletic trainers who have shaped the athletic training profession and exemplified what it means to live a life of service.
More than a ring, green jacket and plaque on the wall, the NATA Hall of Fame is an honor bestowed on those who have spent countless hours perfecting their skills, mentoring the next generation of ATs and imprinting a lasting impact on the athletic training profession.
The May NATA News featured the class of 2023, highlighting their careers and volunteer achievements, and delves into their journeys as leaders in the profession.
The class of 2023 will be honored and inducted into the NATA Hall of Fame during the 74th NATA Clinical Symposia & AT Expo in Indianapolis.
In this blog, the inductees discuss their hopes for the future of the athletic training profession.
 
RICK BURKHOLDER, MS, ATC
That we have multiple athletic trainers in every secondary school in America.
LORIN A. CARTWRIGHT, MS, ATC, CAA
My hope for the future of athletic training is that it thrives and becomes the most recognized allied health care profession. With that will come thousands of job opportunities, thousands of new athletic trainers, extension of the profession into new areas and the utmost respect from the public.
MARK COBERLEY, MS, LAT, ATC
My hope is that our profession will understand and recognize our focus should be to continue to remain a key player in the development and advancement of sports medicine services in the preparedness and execution of evaluation, management, rehabilitation and return to activity of injuries and other conditions related to sport. It is our niche in the health care world, and is the primary area in health care where ATs are the experts. Advancements in these areas permeates the entire profession in all work settings, and is what has made the athletic trainer valuable in all areas of practice. We must keep up with advancing technologies and their uses in these areas.
TONY FITZPATRICK, MA, LAT, ATC
Obviously, athletic training and where we practice has changed over the 42 years I've been involved, but what hasn't changed is what drew me to athletic training in the first place – being able to be involved with health care in this very unique career path. ATs are unlike any other medical profession! My mentors along the way all showed that athletic training involved science, art and magic to be the best practitioner you can be. The science goes without saying, we are health care providers grounded in science. The art comes from conveying what we know and think to others in a way that everyone can understand. But it's the magic that brings it all together. ATs can ease a panicked patient with a smile and disarm them with some humor and a story. We don't dismiss the injury, but we have to put the patient at ease so they will look to us as their champion; someone they will trust. I hope ATs in the future have patients who, when they see you with their children, they proclaim proudly, "This was my AT and they kept me playing." I hope that the future of athletic training and athletic trainers don't forget this mix of science, art and magic.
TORY R. LINDLEY, MA, ATC
My four hopes for the future of athletic training: licensure in 51 states, CMS recognition, ATs understanding their value and ATs owning their impact.
PAUL A. ULLUCCI JR., PhD, DPT, ATC
My hope for the profession is that we will worry less about increasing the skills that define entry level athletic training practice and more about obtaining the pay that is commensurate with our current skills and abilities. It does not make sense to add more to our plate until someone is paying us for coming to the table. My hope is that the current lack of athletic trainers will result in a dramatic increase in salary and improved working environments, which will ultimately drive more to our ranks.