June 22, 2023 by
Lydia Hicks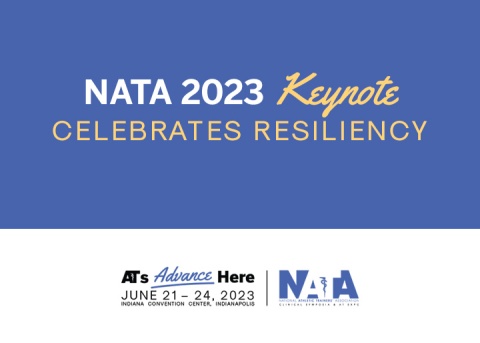 Celebrating the profession and the resiliency of athletic trainers, the NATA 2023 Keynote Presentation, held June 22, featured Buffalo Bills head athletic trainer Nate Breske, DPT, ATC, and associate head athletic trainer Denny Kellington, ATC. They shared insight into their lifesaving intervention when Buffalo Bills safety Damar Hamlin suffered cardiac arrest during the Jan. 2 NFL game against the Cincinnati Bengals.
The keynote kicked off as NATA President Kathy Dieringer, EdD, LAT, ATC, introduced both ATs and the moderator, ESPN sideline reporter Lisa Salters, a two-time Sports Emmy recipient for Outstanding Reporter.
Salters, who was present during the Jan. 2 game, asked a series of questions covering topics ranging from the ATs' intervention that January night to their career journeys, finishing with an encouraging video message from Hamlin himself.
One of the questions about how they knew something was wrong with Hamlin during the game shone a light on the steps they took to execute their emergency action plan.
"As soon as [Hamlin] stood up and with the way he fell down, our reaction was, 'This is a dire moment' and when we got to him on the field, we realized this was not just going to be a head or neck injury or another orthopedic injury; there was more going on in the situation than what we wanted," Breske said.
After Hamlin went into cardiac arrest, Breske, Kellington and the rest of the medical staff took quick action, performed CPR and prevented a tragic outcome.
Both ATs attested to the fact that constant preparation yields success in times of crisis and, in this case, they were more equipped to save Hamlin because their professional training prepared them for any possible life-or-death situation.
"We believe our preparation and practice, not just from that moment, but throughout our careers, reviewing our [emergency action plans], spending time rehearsing these scenarios prepared us for that night," Kellington said. "And honestly, we went out there, not knowing that this was going to be that situation, but when it became evident that it was a critical situation. You just rely on your skill and your experience and people that helped train you and our team was absolutely phenomenal that night."
However, for these ATs, true resilience from such an emergency came from not only a tight connection their team's allied professionals, family and friends, but also a reliance on their faith.
"Honestly, first and foremost, this would not be possible without Jesus Christ, our Lord and Savior," Kellington said. "I honestly say that it was definitely divine intervention; his hands came down and allowed Nate and [me] to do our jobs, along with our entire staff. But, family and friends, our fellow athletic trainers that reached out to Nate and [me] that night and the days after … supporting us, praying for us, praying for Damar. They galvanized the country. We also had a happy ending, and so that allowed us to be very grateful and thankful for the outcome that we've had."
New York Gov. Kathy Hochul awarded Kellington and the entire Buffalo Bills medical staff the Executive Chamber- Special Citation March 29. Additionally, the New York State Senate and Assembly awarded the group a Legislation Resolution. Kellington and his fellow staff members were also honored with the 2023 PFATS Presidents Award.
Breske and Kellington admitted to Salters and the audience that while being an AT in the NFL may seem glamorous, being a successful AT takes relentlessness, lifelong learning and a willingness to make a difference in the lives of one's athletes and patients.
A notable difference these ATs have made in Hamlin's life, for instance, is his bright perspective to life.
"I mean that's the icing on the cake," Kellington said. "It's a special moment for him, and his family, for all of us."
"[Hamlin] wasn't probably as known before this whole incident happened," Breske said. "Now, every camera is on, and everybody is watching him, but he's changed and he has gotten a new outlook on life, like, you can see it and he doesn't take it for granted. He cherishes the moment."
Having listened to their experience and laughed at some of their humor-laced anecdotes, attendees looked on as the 23-year athletic training veterans left them with some key takeaways.
"Ask questions, be vulnerable, be curious about the profession and how you can improve things," Breske said. "Be your best. You never know who's going to be watching. Trust your schooling, trust your mentors, trust what you've been through and don't be afraid to make mistakes. Continue to learn and be prepared to have a plan so that if something should happen, you are ready to take care of business."
"Again, the foundation of athletic training is centered on helping athletes," Kellington said. "Continue to focus on providing high-quality health care for the people your serve and the athletes you take care of. Don't be afraid to learn and grow. Take advantage of every opportunity you are given and just try to make an impact in this world, however small it may be."
At the end, Hamlin greeted the audience with a recorded video appreciation.
Shortly after, the Youth Sports Safety National Press Conference, a discussion which hosted a panel of guests, including Breske, Kellingon and other thought leaders on the youth sports safety, took place in ICC, Room 209.
To learn more about Breske, Kellington and Salters, visit the NATA 2023 special events webpage.
To view photos from the event, visit the NATA PhotoZone on SmugMug.