July 21, 2022 by
Lydia Hicks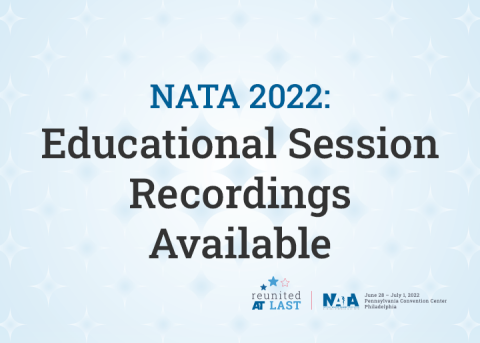 The 73rd NATA Clinical Symposia & AT Expo in-person educational session recordings are now available through Oct. 31 via the NATA 2022 On-Demand virtual portal and NATA 2022 virtual portal.
For NATA members who could not attend NATA 2022, want to earn CEUs or simply want to continue their learning, this is the chance to catch up on hot topics in sports medicine with sessions relevant to the AT's professional development.
Members should check their inboxes for a message received on July 21 regarding accessing on-demand educational sessions and how to continue earning CEUs, whether they attended in-person or on-demand.
 "I think the ability to be flexible with collecting your CEUs over that long period of time is a major benefit [of NATA 2022 On-Demand]," said NATA Convention Program Committee Chair Michelle Boling, PhD, LAT, ATC.
This year's on-demand offering as an accompaniment to the in-person convention, which took place June 28 -July 1 in Philadelphia, is the first of its kind.
"In the past two years, we had the virtual NATA [conventions] so the sessions were prerecorded, but they were prerecorded for a virtual event … and not recorded live in a meeting," Boling said. "So we've never offered a virtual option in conjunction with our in-person meeting."
Boling added that the past two years of the COVID-19 pandemic brought on the necessity for this on-demand addition to the in-person convention.
"I think we realized that we can get a lot more people who typically aren't able to attend in person to be a part of our annual meeting [NATA convention] by providing a virtual option through the on-demand portion," Boling said.
The convention presented advanced knowledge from thought leaders in the profession. In the NATA 2022 On-Demand virtual portal and NATA 2022 virtual portal, registrants have access to select educational programming from these speakers.
The recorded sessions do not only touch on the NATA 2022 themes – diversity, equity, inclusion and access; emerging concepts in injury prevention; and general medical – but also expand on a variety of other timely topics in sports medicine, Boling said.
The NATA 2022 educational content is also beneficial for attendees' continuing education, said incoming NATA Research & Education Foundation Free Communications Program Committee Chair Erik Wikstrom, PhD, LAT, ATC.
The NATA On-Demand virtual portal and NATA 2022 virtual portal include the latest in athletic training research that can be viewed via the digital Free Communications Program posters.
There are 150 poster presentations, which members can peruse at their convenience within both the NATA 2022 virtual portal and NATA 2022 On-Demand virtual portal, Wikstrom said.
Boling encouraged members to provide feedback on their virtual portal learning experiences to help propel the program further.
NATA 2022 On-Demand and NATA 2022 registrants also have access to the virtual AT Expo. They can click on one of many participating company logos to enter their booths and view demonstrations, videos, pictures and product catalogs.
Registration for NATA 2022 On-Demand is still open. View the list of on-demand sessions for the virtual portal educational experience.
For more information, visit the NATA convention website.