October 9, 2023 by
Lydia Hicks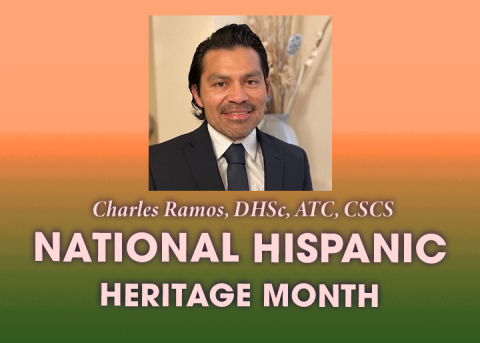 In honor of National Hispanic Heritage Month Sept. 15-Oct. 15, the NATA Now blog is highlighting some of our athletic training leaders at the state, district and national levels.
For Charles Ramos, DHSc, ATC, CSCS, injury, an AT's expertise and two mentors were the ingredients for excellence in the profession.
"Athletic training became an interest of mine during my high school years when I was playing sports and had a few injuries," he said.
As Ramos' high school athletic trainer tended to him, the AT's skill inspired him to "explore several physical rehabilitation professions," he said.
Ramos went on to become an athletic trainer and health science professional with the guidance of his mentors Robert Kersey, PhD, ATC, and Julie Max, MEd, ATC, he said. These leaders further influenced him "to not only strive to be an exceptional athletic trainer, but to be an even better human being," he said.
With several years of experience and leadership under his belt, Ramos, the current clinical symposium chair of the California Athletic Trainers' Association and Diablo Valley College dean of biological and physical sciences, provides insight into what giving back to the profession means to him.
 
What was your first volunteer position within the athletic training profession and why did you get involved?
The first volunteer position I held was as committee member of the CATA Clinical Symposium Committee. I became involved because I was invited to participate and contribute to our profession, even in a small role. I knew I had contributed to our profession through other ways, but I had never considered volunteering on a more formal basis. To me, it was a way to give back to our profession, while also getting more involved with steering the direction of the athletic training profession.
Tell us about your current position as California Athletic Trainers' Association annual clinical symposium committee chair. What do you hope to accomplish in this role?
I am currently in the last year of my term as committee chair and, like most AT positions in the past few years, it was not the status quo. However, my goal in this role has been, and continues to be, to provide our membership with relevant, timely and inspiring educational content. In addition, I have tried to encourage and motivate other ATs and AT students to get involved, especially those who have never considered it.
How has volunteering helped you grow personally and professionally?
In this volunteer role, I have gained more experience in working with a large group of professionals coming from a variety of work settings and with different levels of experience. I have been very fortunate to also meet and work with some of the brightest speakers and leaders in our field who I normally would not have. Personally, I have gotten better at prioritizing and managing my commitments and family life.
Why is representation in leadership important and how does it impact the profession?
As our profession continues to grow and evolve, it's important that our leadership reflect the constituency they are serving. It's so beneficial for our profession to be led by a group that has voices of different backgrounds similar to what we see in our AT and patient demographics. I believe it will allow us to make better decisions for the future of our profession and the communities we serve.
Why should ATs get involved in leadership and service?
There are many things to gain from leadership and service. At a minimum, ATs will learn more about the profession and whether leadership is a role they want to pursue. Beyond that, ATs can build incredible relationships throughout different AT organizations, which could lead to a variety of professional opportunities. But for me, one of the primary reasons is to guide and mentor the upcoming generations of ATs. There were many people who helped me along my professional journey and I want to return the favor.
What advice do you have for other athletic trainers who want to give back to the profession? 
I believe giving back to the profession starts with your immediate surroundings. Taking inventory of the things you want to change/improve or have changed/improved in your work setting and community can reveal what you are passionate about. Having that in mind, it may make it easier to decide on the organization and committee you would want to serve. Finally, I would say to make yourself available. There is almost never a good time to volunteer due to time constraints, but if your mental and emotional health allow it, take on a new role when it presents itself. Someone may reach out to you and invite you to take on a leadership role that you had never considered – it could be a chance for you to grow professionally and personally, while learning more about yourself.