November 8, 2023 by
Lydia Hicks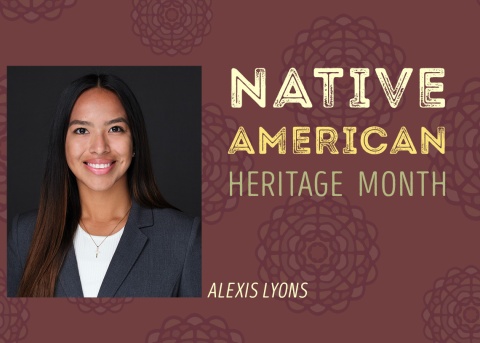 In honor of National Native American Heritage Month in November, the NATA Now blog is highlighting some of NATA's Native/Indigenous American members and their impact on the athletic training profession.
 
The melding of medicine and sports became a lifetime opportunity for Alexis Lyons, an athletic training student, whose extended hours in the athletic training facility after an injury helped define her passion for the profession.
As a collegiate athlete, Lyons received anterior cruciate ligament reconstruction treatment, after which she evolved from being a patient to becoming an athletic training aspirant.
"After years of dedicating my time to the [athletic training facility] and assisting our staff, I made the decision to pursue athletic training," Lyons said. "I wanted to give back to the profession that taught me so many valuable lessons and allowed me to return to the sport I love, basketball."
Here are her thoughts concerning life as an athletic training student and a future AT.
What does a typical day as an AT student look like?
A typical day in the life of an athletic training student begins with engaging in classes. After the morning lectures, we transition to the clinical setting commencing in the heart of it all: the athletic training facility. From there, we head to the sidelines of practices or provide medical coverage for live games. Our role is multifaceted. We start each day with the assessment of injuries, discerning the unique treatment paths required by each patient. Our care encompasses a spectrum of activities, including administering various therapeutic modalities, guiding athletes through their rehabilitation journeys, skillfully applying taping, applying wraps and braces, maintaining comprehensive documentation and ensuring the tidiness and organization of our workspaces while restocking vital supplies. We hone our skills by providing the necessary support that allows athletes to shine on the field and in their respective sports.
What setting are you most interested in pursuing and why?
My ambition leads me to professional sports in either the NBA or the NFL. Growing up, I have always watched professional sports. So, working alongside elite athletes and elite athletic trainers would be the ultimate dream, combining my passions for being a medical professional, being part of the team, watching the sport and being an athletic trainer.
Who has been your biggest influence in athletic training so far?
My inspiration and influence in athletic training has to be my athletic trainer in college, Brian Lorance, ATC. Brian was at my college for my entire college career and helped me through my entire rehab process, return to play and played a huge part in supporting my athletic training pursuit. I spent countless hours in the athletic training facility, from rehab to assisting with treatments, homework and hanging out with all the staff and students. I loved being around amazing staff and students, and what the profession gave to sports.
Why is representation in athletic training important and how does it impact the profession?
Representation is extremely important because it opens the doors to future generations of athletic trainers. Athletic trainer representation aids in the ability to differentiate from other fitness professions. Specifically, for me, to see women in positions of power in professional sports is extremely inspirational. Historically, women in professional sports leagues were essentially unheard of, and to see women in head positions or on staff of professional teams is remarkable.
What do you look forward to the most as a future athletic trainer?
As an athletic trainer, I look forward to helping athletes, meeting new athletes and athletic trainers, traveling all over the country, being part of the team, building long-lasting relationships and enjoying work while watching sports.
What impact do you hope to have on the profession?
I aspire to elevate this profession by assuming a leadership role that projects greater respect for it, by actively educating people about the vital work we do, and by extending a hand to mentor and guide emerging athletic trainers. Additionally, I'm committed to inspiring Native American youth and others to consider a career in athletic training. Within our field, Native American athletic trainers remain a rarity, and I want to change that by encouraging more representation and diversity.