November 15, 2023 by
Lydia Hicks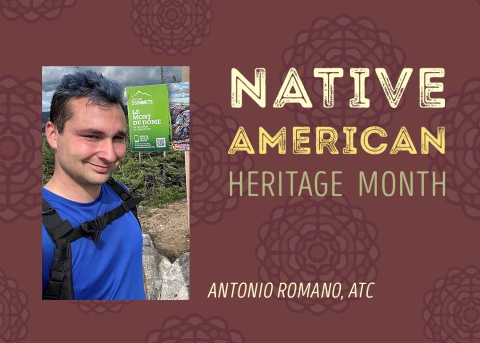 In honor of National Native American Heritage Month in November, the NATA Now blog is highlighting some of NATA's Native/Indigenous American members and their impact on the athletic training profession.
 
Antonio Romano, ATC, initially aspired to become a nurse, but his path led him to athletic training.
"Originally, I was going to be a nursing major and attend a well-known program at the University of Maine in Orono," Romano said. "However, while I was looking at college majors involved with the medical field, I happened to come across the major of athletic training."
Unlike his fellow high school athletes, Romano was unaware of athletic training as a career possibility. So, discovering athletic training as a possible career path fueled his interest in it.
"It intrigued me to pursue the profession and see how I could help future athletes," he said.
Now an AT in the secondary school setting working at Freeport High School in Maine, Romano shares what it takes to be a leader in the athletic training facility and on the field.
 
What drew you to the secondary school setting?
What drew me to the secondary school setting was the athletes themselves. These athletes are still growing, developing their skills and still discovering which sports are right for them. This type of environment makes it a key role for an athletic trainer to be present and help these young athletes understand sports, injuries and prevention tactics for injuries.
What does a typical day at Freeport High School look like?
A typical day at Freeport High School consists of arriving early for the end-of-school bell rush. The daily athletes stop by for their treatments and to talk. There'll usually be a few evaluations, then field setup for the home games; a pretty standard busy day in the life of an AT.
Tell us about your most memorable day on the job.
One of the most memorable days I've had was when I left my last high school position. As I informed the athletes, coaches and parents of my departure, there were many sad faces and varying emotions. Even though this was one of the saddest days so far in my career, it partially turned out to be one of my most memorable. This is because all the appreciation of my efforts, my support for the athletes and my commitment to the school, kids and the profession were made very clear by everyone – athletes, school staff, coaches and parents. This confirmed that in my couple of years in that secondary school setting, I made a difference in all the lives of those individuals. I inspired athletes to continue in their sports, while staying healthy at the same time. I even inspired some of my student athletes to look into a future career in athletic training because they wanted to do for other athletes what I had done for them.
Why is representation in athletic training important and how does it impact the profession?
Representation in the athletic training profession is important because it spreads the word of the importance of our position. It shows the public and individuals involved with sports at every level that there is someone there dedicated to their health and well-being as they participate and grow within the world of athletics, as well as in new and emerging settings that athletic trainers are seen in nowadays. Without it, people won't know who we are, what we do and our mission to help all under our care.
How have you advocated for your position and the athletic training profession throughout your career?
I have advocated for myself as an athletic trainer and the athletic training profession by spreading knowledge of what an athletic trainer is and what it is we do. I have worked at many events and per diem jobs during which neither the athletes nor spectators are aware of who I am and what the profession that I call my career is. I take the time to stand there with them and talk about athletic training as a whole and what I do as an athletic trainer. So, in the future, should they need one, they know who/what we are, and should someone else have the same questions, these individuals who are now aware of athletic trainers can spread the word about the profession and what we do.
What advice do you have for people who are thinking about becoming an athletic trainer?
My advice for individuals looking to begin a career in athletic training is go for it! There are many career options in this world, some even with overlapping fields. However, athletic trainers are in a unique position in the sports medicine field where you can experience exposure to many different things during your time in the profession. This includes working closely with athletic departments, athletes of all ages and sports levels, parents of younger athletes, helping them understand injuries and injury care that they might not otherwise have access to, working closely with doctors, physical therapists and other medical professionals all with the same goal of getting and keeping athletes/individuals safe and healthy. It's an eye-opening experience, where you will learn many things and can take those experiences and life lessons and use them in your everyday life and interactions!