May 8, 2023 by
Lydia Hicks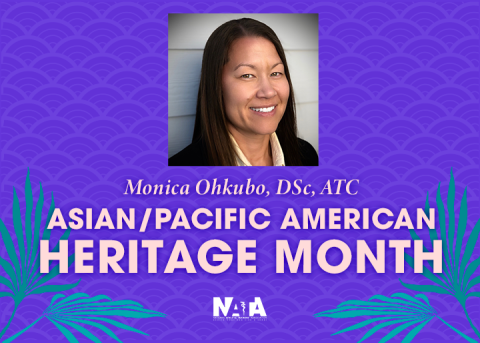 In honor of Asian/Pacific American Heritage Month in May, the NATA Now blog is highlighting some of our Asian American and Pacific Islander leaders at the state, district and national levels.
For someone with many educational and career opportunities to choose from, California Athletic Trainers' Association (CATA) Equity, Diversity and Inclusion Committee Chair Monica Ohkubo, DSc, ATC, EMT-B, said she was not sure which direction to take in the early years of her professional journey.
Uncertainty became astonishing optimism for Ohkubo when she experienced her first athletic training encounter as a patient.
"It was not until I was injured playing intercollegiate softball that I was introduced to the field of athletic training," she said. "I had never heard of the profession, and my high school had not had an athletic trainer. The first time I walked into an athletic training clinic, I was wide-eyed, amazed and instantly filled with hope and excitement for my future. I wanted to do whatever these professionals were doing; it was the perfect marriage of sports and medicine."
Ohkubo's relentless pursuit of the profession through her career development, service to her athletic training community and activities in various leadership roles, has propelled her forward, giving her purpose every day, she said. A significant part of this purpose is advocating for representation in the profession.
Read on to learn more about her endeavors and impact.
 
What was your first volunteer position within the athletic training profession and why did you get involved?
I have held many volunteer positions at the community level and the California Community College level, but my first official position at the state, district or national level was on the Far West Athletic Trainers' Association Ethnic Diversity Advisory Committee in 2020. I was drawn to get involved because I felt I had to put action to my words that we could do better as a profession for people of color.
Tell us about your current position as the California Athletic Trainers' Association Equity, Diversity and Inclusion Committee chair and what you hope to accomplish in this role.
The racial awakening of spring 2020 led me to research whether CATA had some form of equity committee. When I discovered CATA did not yet have such a committee, my proposal to the CATA Managing Board to create an equity, diversity and inclusion (EDI) committee was not only welcomed, but expeditiously approved. As California is one of the most diverse states in the nation, I wanted to represent and advocate for athletic trainers, patients and communities from all backgrounds. In my role as chair of the CATA EDI committee, I hope to help the CATA Managing Board view business and decisions through an equity, diversity and inclusion lens. I also hope to provide a strong voice for all athletic trainers in California and ensure equitable access to opportunities. It is a goal of our committee to not only provide perspective for CATA and the managing board, but to inspire and empower all managing board and CATA members to be equity advocates as well. Advancing equity is not the job of one committee or one committee chair, but a job for each and every one of us. Through education, uncomfortable conversations, understanding and empathy, I believe we can all improve and enhance the goals of equity, diversity and inclusion in athletic training.
How has volunteering helped you grow personally and professionally?
Volunteering has connected me with many amazing people from all over the state and country, whom I otherwise may not have had the pleasure to meet. This has allowed me to expand my professional and personal networks and exposed me to things I otherwise would not have encountered. Working with patients in the field of athletic training is fulfilling, but giving back to the profession that gives me purpose every day completes the circle for me.
Why is representation in leadership important and how does it impact the profession?
Any way you slice it, representation matters, and athletic training leadership roles are no different. When I first started in the profession, representation was very limited, and I did not relate to those in leadership. Later, when I saw people such as Lyn Nakagawa, MS, ATC, CSCS, and Mimi Nakajima, EdD, ATC, in state and district positions, I was able to envision myself also holding a leadership role in athletic training. I can only wish to provide the same hope for someone else.
Why should ATs get involved in leadership and service?
Service gives back in many ways, such as networking and meeting great people, broadening understanding and sharing ideas and skills. Representation matters, and when more people get involved, more new professionals will be inspired to serve as well. Our profession needs your voice! For athletic training to continue to grow and evolve, we need a broad range of individuals to serve and lead. The profession will only be as good as we make it, together.
What advice do you have for other athletic trainers who want to give back to the profession?
Check your state, district and national committee websites for opportunities. Find your interest area, and ask how you can get involved. Go to state and district meetings and the national convention and talk to people, asking them for advice on how to give back. Ask conference presenters how you can get involved with their topic or committee. Take that first unsure step out of your comfort zone and into new territory; that step could very well become your door to a leadership opportunity.